'Book of Mormon' marks new chapter for 'South Park' duo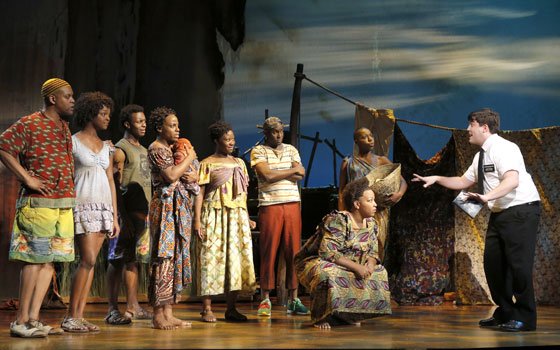 This is musical comedy Marx Brothers-style, with exuberant numbers crafted to accent quirks and heighten comedy. With a limp turn of a firm hand, Elder McKinley signals that his nature is popping out despite his resolve to rein it in.
The villagers, plagued by AIDS, a murderous warlord and hunger, bear their lot with grim humor. Singing a catchy Afrobeat song, they blaspheme with the same heartiness that the missionaries bring to their eager door-to-door appeals.  
Mafala Hatimbi, the village leader, is played with understated dignity by Kevin Mambo, who performed the lead role in the Broadway production of "Fela!" Samantha Marie Ware is Nabulungi, his lovely daughter, a part she played in the Broadway production. She projects sweetness and smarts, and in one of the show's few quiet scenes, she sings a tender aria about her dream of a distant paradise.
When his partner falters, Elder Cunningham decides not to flee in one of the show's best numbers, "Man Up," a disco-lit extravaganza.
Before the show is over it lampoons the "We Are the World" movement along with "The Lion King," "The Sound of Music" and a host of other Broadway musicals as it goes about its true business: crafting a subversive tribute to the human capacity for faith, imagination and kindness as a way to cope with life's horrors.
A limited number of $25 tickets to each performance will be available by lottery. Entries for up to two tickets per person will be accepted at the box office starting two and a half hours before the show. Winning names will be drawn two hours before curtain. Winners must be present at the drawing.