Arts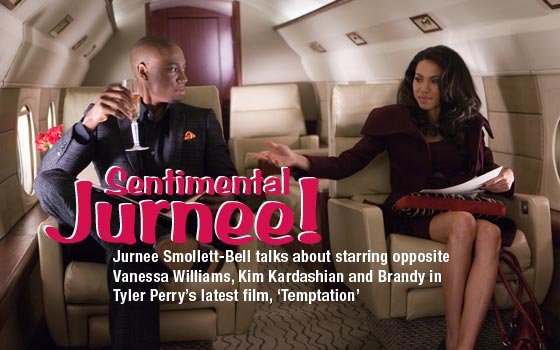 How did you prepare for the different emotional moods your character, Judith, is called upon to convey in "Temptation"?
I had to do a lot of research because of the complexity of the character since she passes through so many different emotional colors. In preparation, I spent time speaking with marriage counselors, therapists and relationship experts in order to get into her head, to understand what leads to what, and how a third person could come between you and your spouse and convince you that your marriage and life isn't what it should be.
I wanted to get a sense of how that could happen. Being a newlywed, it was so hard for me to imagine that. Tyler and I would debate back and forth about the script. I'd ask, "Would she really do that?" Sometimes, he'd make an adjustment, other times he say, "Look, Jurnee, you have to remember this is not you in a happy marriage." Those were the moments when I had to rely on my research.  
What was it like having Tyler Perry as a writer and director?
It was such a great experience. He's so down-to-earth, he's a fun guy and he keeps a great set. Everything's on time. He's the first one to show up, the last one to leave, and he's really open to suggestions and collaboration. For instance, if I said, "I don't feel that that dialogue is truthful," he'd respond with, "Okay, let's work that out. Let's adjust it."
What was it like working with your leading men Lance and Robbie, as well as Kim, Brandy and Vanessa?
It was great to work with the guys, because they really brought their "A" game. I was really grateful to them for being so open and emotionally available, since half of my performance involved looking into their eyes and reacting to them. And what an amazing cast of women.
Vanessa Williams, who plays my boss, is such a legend. I've always looked up to her. Not only is she so gorgeous, but she is a pro. She gave me some great advice and support, that little stamp of "You got this, girl!" which you never can get enough of.
Brandy, I already knew. Although I didn't have many scenes with her, I was happy that she was in the film because she's such a talented actress. And Kim was just so sweet to work with. She was very eager and very professional. It was a great, diverse cast.  
What message do you think Tyler wants his audience to take away from the film?
I think he really wants the film to start a dialogue among couples about relationships. That you cannot take your loved one for granted. You have to continue to communicate. You always have to work on the relationship.
And then there's another message about choices. The film at its core is really about how thoughts can infect your mind that might lead to choices that can lead to actions and behavior you never thought yourself capable of, if you don't watch yourself.
How did you come to develop an interest at such an early age in AIDS in Africa and the Children's Defense Fund as charitable causes?
I love that question. When I was 12 years old, I got involved with an organization called Artists for a New South Africa. One of its missions is to help with HIV/AIDS awareness. My best friend is Hydeia Broadbent, who was one of the first people in America born HIV-positive. Between those two, I've always been passionate about HIV from a young age, because I've seen, personally, how it can affect someone's life.
Obviously, HIV/AIDS isn't a death sentence anymore. Hydeia will be 28 soon and she's a walking example of that. But still, as her best friend, I see how hard it is to live with this disease. She wakes up with stomach aches, because the medication is really harsh on your body. It's nothing that anyone would choose to have. So, I do what I can to educate young people about this disease, because it is preventable.