Arts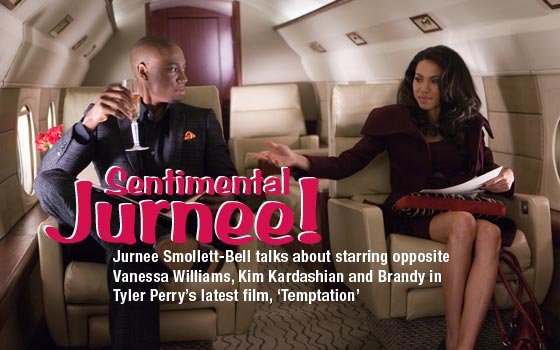 Born in New York City on Oct. 1, 1986, Jurnee Smollett-Bell is an award-winning actress and activist of rare talent and conviction. She recently starred in the Emmy Award-winning series "Friday Night Lights," on which she portrayed the character Jess. She's also been seen on "The Defenders" as Lisa, a new attorney at the law firm.
Jurnee starred in "The Great Debaters" with Forest Whitaker and Denzel Washington. Jurnee received rave reviews and won the NAACP's Best Lead Actress Image Award for her performance.
The versatile thespian landed her breakthrough role at the age of 11, when she starred in "Eve's Bayou" opposite Samuel L. Jackson and was cited by Interview Magazine as one of the five Hollywood stars to watch in the new millennium.
Besides acting and singing, Jurnee is an activist and the youngest board member of Artists for a New South Africa (ANSA), a nonprofit dedicated to fighting the spread of HIV, advancing human rights and educating and empowering AIDS orphans and other at-risk youth. She has been involved with ANSA since the age of 11.
Working with the organization, Jurnee has traveled to South Africa, where she has met with Nelson Mandela and Archbishop Desmond Tutu, as well as with victims of HIV. She even went on an official mission for the U.S. State Department to Botswana, Swaziland and South Africa to conduct AIDS awareness workshops. Among Jurnee's other charitable causes is the Children's Defense Fund, where she joined the board at the invitation of her longtime mentor, Marian Wright Edelman.
Here, she talks about starring as Judith opposite Vanessa Williams, Kim Kardashian and Brandy in Tyler Perry's latest new film, "Temptation."
What interested you in "Temptation"?
The challenge of the role. It's kind of what you look for as an actor. Something that you haven't done before, something that can really make you stretch. And honestly, I'd always wanted to work with Tyler.
How did that come about?
I was awakened by a call early one morning from an Atlanta number. When I answered my cell phone, the person said, "Hello, this is Tyler Perry. May I speak with Jurnee?" And I said, "Shut up, there ain't no way this is Tyler Perry." [Chuckles] I thought it was one of my brothers doing a prank call on me. Tyler just laughed, apologized for waking me, and then asked me to call him back after I got up. When I hung up, my husband turned over and asked, "Baby, do you think that maybe that really was Tyler Perry? You might want to call back and see." [Chuckles]
Lo and behold, it was Tyler, and he said he had been following my career and that he had written this script with me in mind. He said Bill Cosby had actually told him years ago that he needed to work with me.
So, what did you think of the script?
When I read it, I was like, "Wow! This is a lot to take on." But I wanted the challenge.