Arts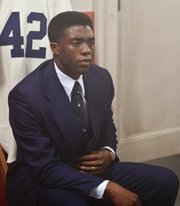 Hailing from Anderson, S.C., Chadwick Boseman is an accomplished actor, scriptwriter and playwright who, until now, was probably best known for portraying the character Nate on the critically-acclaimed dramatic TV series "Lincoln Heights." Prior to entering show business, Boseman earned degrees at Howard University and the British American Dramatic Academy at Oxford.
What did it mean to you to portray Jackie Robinson, and how did you prepare for the role?
It's just a great honor to play him. In order to portray him, I basically paid attention to three different aspects of the role. First, the physical aspect of baseball, and his five-day-a-week workout regimen starting with Spring Training in the middle of January all the way to May. Secondly, I studied Hall of Fame footage of Jackie so that I could emulate his batting stance, how he took leads, how he ran bases, the arm slide he used in certain situations and his fielding style. Thirdly, there was the question of how to attack the role. I didn't want to just do an imitation. I wanted to interpret it while remaining faithful to the script and [director] Brian Helgeland's vision.
The research also included reading and talking to Jackie's widow, Rachel, and his daughter, Sharon, in order to deliver the most authentic interpretation of him possible.
Was the role at all intimidating to you? Did you feel any pressure to get Jackie right, given his importance in history?
Yes, because Jackie is a hero to people from so many walks of life whose reverence for him is often based on different interpretations of who he was. I also felt a certain amount of responsibility to give an accurate account of his life and the person that he was for the benefit of the youth who don't know him. But I still felt a great responsibility to Rachel Robinson and his family. She has carried on his legacy for decades, and she's carried the torch for this film. So, my main goal was to do right by her.
Prior to auditioning, how much of the Jackie Robinson story did you know?
I knew his story since I was a kid. My parents told me stories about him. And I learned about him, Martin Luther King and other civil rights leaders at church. I didn't know anything about Jackie's personality, or the specifics about his family or where he came from. So, I went into the audition with very limited knowledge of the facts that you would need to play him.
In doing this film, what did you find out about Jackie Robinson that surprised you the most?
I was surprised that he was considering quitting baseball just before he was signed by the Dodgers' GM Branch Rickey [played by Harrison Ford]. He had become disenchanted with barnstorming across the country in the Negro League for several reasons: He often had to play several games a day; there were a lot of places where African Americans couldn't stop to eat, sleep, buy gas or even use the bathroom; and he wasn't being paid enough at a time when the most important thing to him was taking care of his family.