Reflections on life as a Tuskegee airman
Scott Haas | 4/5/2013, 6:32 a.m.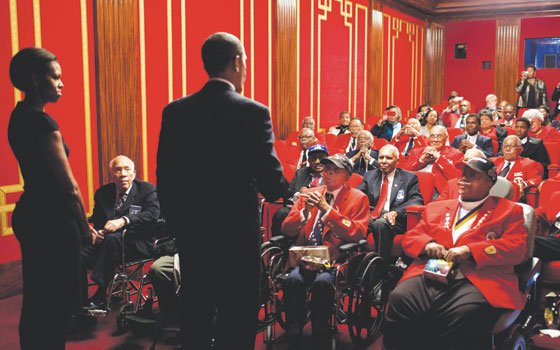 Please describe the training process to become a pilot.
There were three phases. In primary, all the instructors were black. In basic, all the instructors were white — they were carefully selected to train the black cadets. Because if you hated black people, you couldn't teach them flying! Flying is all about trust. Finally, there was advanced training.
The training was difficult.
It was. We lost a great deal of people in training.
What were you going to do since you couldn't become a pilot?
So my choices then were navigation or bombardier. In December, 1944, I graduated as a bombardier. Second lieutenant.
Second lieutenant!
[Laughs] Second lieutenant and a gentleman! It was by an 'Act of Congress' that I was made a gentleman! I want you to know that our Congress made me a gentleman.
Where did you grow up?
I grew up in Eufaula, Alabama. There's a Eufaula, Oklahoma, but I'm from Alabama. It's on the Chattahoochee River, and I never had gone more than 30 miles from my home until I went off to college at the Tuskegee Institute. That's where I saw the Airmen.
What was it you liked about them?
Well, for one thing I saw that the girls had crushes on those guys! They liked their uniforms and how they carried themselves. So we went for it!
What was it like?
The Tuskegee Airmen had very high standards. Initially, you were required to have at least two years of college training. But with the war, they changed the rules. They gave applicants an exam. If you passed, they would accept you. I was assigned to the 477th Bombardment Group. We were given training on B-25s — the same bombers that bombed Tokyo in the early part of the war.  
And this term, 'Red Tails,' that was used to refer to the Tuskegee Airmen?  What was that about?
The Tuskegee Airmen were part of the 332nd Air Group —we were the black guys that flew for the air force. And each group used colors to designate itself. All planes had some kind of I.D. We painted the wings red as our special emblem. We were the black guys with the red tails.
How many Tuskegee Airmen were there?
I think that there were about 16,000 in total — not just the nearly 1,000 pilots, but the navigators, radio operators, bombardiers and a lot of people on the ground: Doctors, nurses, mechanics, instrument people and so on. The Haitian government sent five men who became pilots, and after the war was over they went back to Haiti.
What was it like being part of a black elite group during a time when the country was deeply racist?
[Laughs] You know, a lot of people ask me that. I don't think we put a whole lot of energy or thought into that — we were so busy doing our job that we didn't have time to think about it philosophically. We didn't have a lot of time to discuss it — because we just wanted to come back in one piece.
Right, but after the war when you had time to reflect? Now?
Now sometimes I ask myself: You were kind of foolish. Wasn't that a stupid thing to do? Flying when the country didn't care about us? Now I'm not an historian, but I also think: a lot of people tell us that our air corps, the Tuskegee Airmen, helped lead the Civil Rights Movement. So maybe it was worthwhile.