Reflections on life as a Tuskegee airman
Scott Haas | 4/5/2013, 6:32 a.m.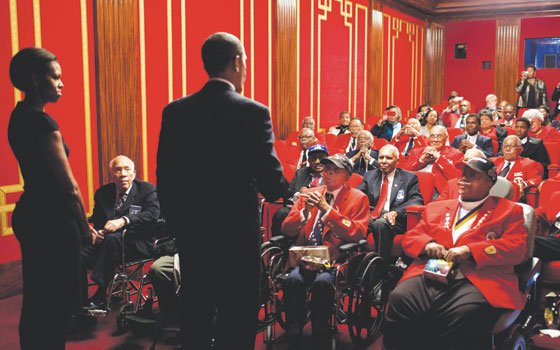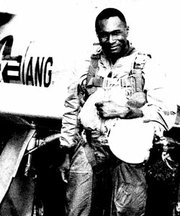 When he learned that his grandson Thomas was graduating from Harvard, Hillard Pouncy did what any other proud grandfather would do.  He got in a car and drove overnight to see him.  
Climbing into his Jaguar and putting on his golfer's flat cap, he made it to his son's house just outside of Philadelphia, and there joined the family for the trip further north. At 86 years old, this was no easy feat, especially considering his drive started in Georgia, some 1,000 miles away from Harvard Square.
But Pouncy's family was used to how he did things. His independence, his unwillingness to discuss his plans or collaborate, and his belief that he could still get things done no matter his age were the norm.
That independent streak was cultivated in part during his days as a Tuskegee Airman.  As a member of this elite group of black U.S. military, Pouncy developed a conviction that he was on a mission.
After the service, he went on to earn a doctorate in organic chemistry from Syracuse University in the early 1950s, and then had a long career with Union Carbide traveling the globe.
He was clearly one of the best and the brightest, able to flourish during one of the most oppressive times in American history.
During WWII, the United States military was racially segregated, but the necessities of war created a need for talent regardless of color. The birth of the Tuskegee Airmen was a case in point.
It started in 1939, when Congress passed the Appropriations Bill Public Law 18, which contained an amendment that allowed funds to be used to train African Americans to become pilots (in schools separate from white trainees).  
Then, in June of 1941, with war looming, the first squadron of black pilots was activated at Tuskegee Institute in Tuskegee, Ala.
Some historians credit the success of the Tuskegee Airmen with helping to inspire President Harry Truman to sign Executive Order 9981 in July, 1948, which ended segregation in the U.S. military, and arguably paved the way for the U.S. Supreme Court's 1954 Brown v. Board of Education decision that integrated public schools.
Nowadays, most of the Airmen are, of course, in their late 80s or 90s.  Many have passed on. Pouncy is one of the few still alive.
How old were you when you enlisted in the Airmen?
I must have been close to 20. Let's see, I'm 90 now, so this was in about 1941. I stayed on active duty for about three years during World War II and then was a reservist for 17 years in the New York Air National Guard, so we're talking a good 20 years.
What were your responsibilities as a Tuskegee Airman?
Well, let me say that I wanted to be a pilot. And then, less than two weeks before graduation, they told me I wasn't good enough. I wasn't fast enough. It was a crushing blow to my ego. They said I was 'washed out.'