Menino's exit triggers flood of love, support and thanks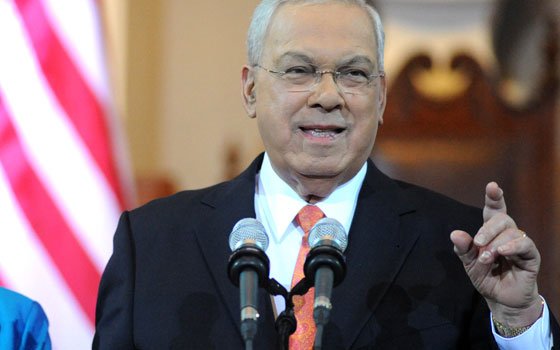 "I'm back to a mayor's schedule, but not a Menino schedule," he said. "Spending so much time in the neighborhoods gives me energy... It may not be the only way to lead Boston, but it's the only way for me."
Despite his health problems, Menino remains feisty, drawing the heartiest laugh when he boldly asserted:  "I can run, I can win and I can lead, but not in the neighborhoods all the time as I like."
A Boston Globe poll last showed that Mr. Menino remained immensely popular and that almost three-fourths of respondents said the city was heading in the right direction. But it also showed that voters were concerned about his health and ambivalent about returning him to office for an unprecedented sixth term. Only 43 percent said they wanted him to run again, and 36 percent said they did not.
Menino's support is wide, deep and longstanding. Menino was president of the City Council when then-Mayor Ray Flynn was appointed ambassador to the Vatican. Menino became acting mayor for four months. Elected to his first term in November 1993, he won re-election by wide margins in 1997, 2001, 2005 and 2009.
To Harvard President Drew Faust, Menino has been a "powerful advocate for the role that education and research play in fueling innovation and prosperity."
"Discoveries and degree holders are as much a part of his legacy as buildings and businesses," Faust stated, "and his efforts to promote education will pay dividends for generations to come."
Menino's departure creates a virtual free-for-all among lesser-known politicians. Boston City Councilor John Connolly had already declared his candidacy. Other potential candidates include state Rep. Martin Walsh, City Councilors Tito Jackson and Rob Consalvo, state Sen. Sonia Chang-Diaz, and Suffolk District Attorney Daniel Conley.
On April 17, candidates can apply for nomination papers, the first step in getting their name on the ballot for the preliminary election, scheduled for Sept. 24. The top two vote-getters will compete in the Nov. 5 final election.
"I have no plans to pick the person to fill this seat," Menino said. "I just ask that you choose someone who loves this city as much as I do."