Arts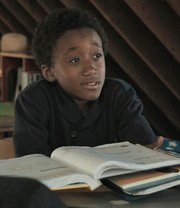 At an early age, Travaris Spears, known to many as "Varis" or simply as "V," displayed a charm that was engaging and magnetic.
An energy and passion for performing led him to sing and dance, often imitating his favorite artists and celebrities. Using the world as his stage, Travaris leaves a lasting impression, thanks to a gift for communicating and interacting with people from all walks of life.
In fact, after performing in a Tiny Tots school play, the director and audience members expressed to his mother that he had something special. In 2007, he moved from Rochester to Brooklyn, N.Y., with his mother, Tanika.
Although Travaris was blessed with natural talents, he committed himself to various activities that enhanced his character and improved his chances of blossoming as a professional artist.
The discipline Travaris has displayed at such a young age is unrivaled and enables him to become fully engaged in a host of skill-building activities. His repertoire includes enrollment at the American Tap Dance Foundation, weekly guitar lessons and voice and acting coaching.
While maintaining excellent grades in school, he has appeared in music videos, print ads and several indie films.
Here, he talks about his new movie, "Admission," a romantic comedy co-starring Tina Fey and Paul Rudd, where he plays Rudd's adopted son, Nelson.
What interested you in "Admission"?
I think the thing that made me most interested in this role was playing a kid that had a life totally different from mine. Nelson is adopted. He travels the world with his father … no stability, no mother. It was interesting preparing myself mentally for this role.
What was it like being on the set of your first feature film?
It was so exciting being on set for the first time. Everyone welcomed me with love. It was a great cast to work with.
Were you at all nervous acting around big stars like Paul Rudd and Tina Fey?
Yes, I was nervous at first. I actually auditioned with Tina Fey before I was offered the role, and she made me feel really comfortable. We connected immediately. I was also able to meet Paul Rudd before I came on set to discuss some of the scenes, and he was very friendly and cool to work with. After the initial meeting, I was no longer nervous.
How would you describe your character, Nelson?
Nelson is an outgoing kid, very caring and outspoken. He loves to socialize like myself. Nelson is a kid who wants stability, a normal life, a mom and the same friends and the same school, instead of traveling the world with his father. Nelson hates traveling.
Are you anything like him in real life?
Yes, Nelson and I are outgoing, caring, not shy and we like stability. I couldn't imagine traveling the world, being taken away from my friends and family constantly.
What message do you think people will take away from the film?
People will see that change is not always bad; you can find many things in change, including happiness.