Warren, Brown vie for black votes as election day draws near
Yawu Miller | 10/31/2012, 7:44 a.m.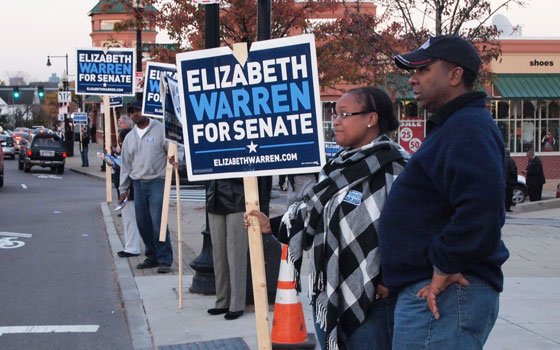 Arguing for a vote for Brown, Thompson said the Senate's Democrats' 51-vote majority is secure and that blacks should have influence over both parties.
"Our goal is to get President Obama and our sitting senator re-elected," he commented.
During a standout at Roxbury Crossing last week, about a dozen Scott Brown supporters held signs and engaged in sometimes heated debates with passers-by. While several spoke to the Banner, none besides Thompson would give their name.
"We agree about more things than we disagree on," said one supporter of Brown. "He's the sitting senator in office. We have to talk to him and remind him he works for us."
The literature the Brown campaign dropped in the black community – the same piece his supporters were distributing at Roxbury Crossing last week — emphasized Brown's work with people of color. On the first side appears a photograph of Brown shaking hands with Obama.
On the other side are four photographs, each featuring Brown with black people. The message "working together for you" appears on both sides of the card.
At Warren's Grove Hall office, one of three her campaign has opened in Boston's black community, dozens of volunteers were present last Friday afternoon, picking up bumper stickers, placards and campaign literature.
Among those present were Ward 12 Committee co-Chairwoman Victoria Williams, political activist Aaron Jones, Nancy Rachelle Rousseau and Steve Tompkins, senior political advisor for the campaign.
"The volunteers in this community are energized for a number of reasons, beginning with the fact that Warren [has] been here many times," Tompkins said, noting that Brown refused to appear at a community forum sponsored by the NAACP, the RoxVOTE coalition and other black community organizations.
Tompkins also noted that Warren has opened offices in Lower Roxbury and Mattapan, in addition to her Grove Hall office.
"She has put campaign resources into our community," he said. "Brown is showing up at the 11th hour, thinking it will make a difference. It won't."