Protesters demand more local jobs at Ferdinand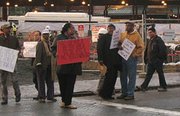 Minority hiring is high, but city resident jobs lagging

Local residents and community activists have been protesting at the Ferdinand site in Dudley Square for the past week to demand more construction jobs for Boston residents on the Dudley Municipal Center.
"Boston jobs for Boston residents!" chanted some 15 protesters in the early morning of Oct. 15, carrying signs at the construction site entrance on Washington Street as trucks backed in, construction machinery rumbled and buses roared toward Dudley Station.
The massive $115 million project broke ground in March and will be in progress until late 2014. It will create a new Boston Public Schools headquarters and ground-floor retail space.
"I'm out here supporting the young men who don't have jobs," said Terrence Williams, a meter installer for the Boston Water and Sewer Commission. "You see trucks from other parts of the state [at construction sites]. It's a shame that taxpayers' money is not coming back into the city of Boston. Boston is being rebuilt, and we're not part of that project."
At issue is whether the city and Shawmut Design and Construction, the project's general contractor, are adhering to the Boston Residents Jobs Policy (BRJP). The 1983 ordinance calls for general contractors on city-funded projects to allot 50 percent of work hours to Boston residents, 25 percent to minorities, and 10 percent to women. On the Ferdinand site, numbers for minority workers actually exceed requirements so far, but resident and women worker numbers are lagging.
"This site is out of compliance," said protest organizer and Roxbury native Priscilla Flint. "[Contractors] keep being out of compliance. The city is supposed to apply sanctions. We don't know what else to do."
Flint is the economic development coordinator for the Leadership Forum, a group formed by concerned community leaders last December to "hold everyone accountable," she said, from elected officials to community development corporations.
She is also on a citizen monitoring committee that examines biweekly Ferdinand project reports of minority, resident and women workers in each subtrade. The volunteer monitors meet with city and elected officials and Shawmut representatives every two weeks to discuss the reports.
Flint is frustrated that even with this vigilance, not all the job numbers are up to par. As protesters assembled in pre-dawn darkness, Flint brought out a binder of worker data for the site. Late-September figures showed that so far, minority workers had put in 71.4 percent of total project work hours — far exceeding the goal of 25 percent — but the Boston resident numbers fell short, at 29.3 percent compared to the goal of 50 percent. The female worker percentage was 6.2, short of the 10 percent requirement.
"They keep saying it's going to get better," she said. "When is it going to get better?"
Patrick Brophy, assistant director for operations on the City of Boston's Property and Construction Management (PCM) team, talked with the protesters as they gathered. He reminded them that the project is just beginning, and there is still time for local residents to come onto the job.