The pride of Franklin Park
Fran Cronin | 10/17/2012, 9:02 a.m.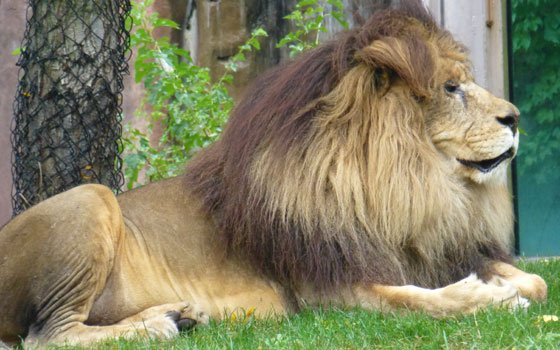 Founded in 1912, Franklin Park Zoo is still inspiring curiosity
Celebrating its 100th birthday this month has been no minor feat for the Franklin Park Zoo. Founded on turn-of-the century dreams of a wide boulevard flanked by exotic animal exhibits, the zoo has had to reset pubic expectations and survive on starry-eyed wishes and hand-clasped prayers. Lack of sufficient funding has always plagued its tenuous existence.
Since its inception in 1912 by Boston's first American-born Irish mayor, John "Honey" Fitzgerald, "the zoo has played an extensive role not just in the neighborhood but for the people of Boston." said Dr. Rory Brown, zoo historian and Zoo New England board member.
John Linehan, president and CEO, has been a part of the 72-acre zoo's "coming of age" since 1980, when he started working as a temporary laborer in the bird department. He quickly bounded up the zoo ladder, moving from the aviary to curator of large mammals and then zookeeper before being appointed to his current post in 2002.
During the intervening three decades, Franklin Park Zoo morphed from a poorly-funded, state-run agency to a non-profit established by Gov. William Weld in 1992. Though Weld gets the credit, it was then Gov. Michael Dukakis who initiated the zoo's placement in non-profit hands in 1988.
The resulting public-private partnership, Zoo New England, also includes the nearby Stone Zoo in Stoneham. Both zoos are now officially accredited; Franklin Park Zoo has expanded from a staff of 30 to a year-round staff of 108, and Stone Zoo has been overhauled. The annual operating budget is $12 million. Last year's attendance hit an all-time high with a half-million visitors.
During the zoo's 100-year history, much has changed, including its mission.
"We have evolved from being an animal consumer to being an animal producer," said Linehan, his head covered by a Zoo New England baseball cap.
Originally envisioned as a gateway to the country by seminal park designer Frank Olmsted and reinterpreted as a municipal zoo by Fitzgerald's landscape architect Arthur Shurcliff, Franklin Park Zoo has in the past decade moved to align itself with the likes of state-of-the-art Bronx Zoo in New York City, and participates in collaborative breeding and conservation programs with other zoos around the country and world.
Strolling along the paths that cut through its landscaped habitats, one can see that Franklin Park Zoo, like many other modern zoos, is not just about show. Behind the scenes is a vast local and international effort to support the genetic lines of endangered species or to preserve habitats that support animals in the wild.
An accredited member of the Association of Zoos and Aquariums, Zoo New England has become a major player in the move to breed and preserve endangered animal species globally.
Eric Baitchman, Zoo New England's Director of Veterinary Services since 2006, leads a consortium of partners to expand the Panama Amphibian Rescue and Conservation Project. Zoo New England also supports Blanding's turtle research and oversees efforts to protect this decreasing species in the Great Meadows National Wildlife Refuge in Concord.