Warren's campaign message resonates with black voters
Yawu Miller | 10/3/2012, 10:32 a.m.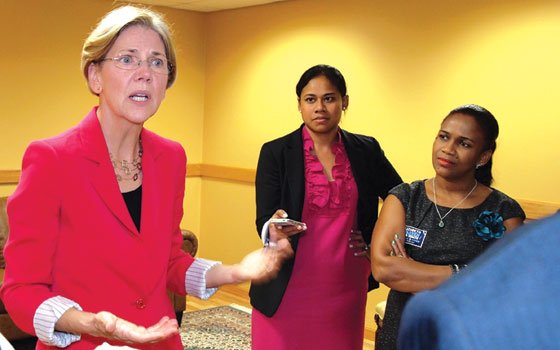 "The reality is that communities of color could be a major factor in this year's election and we intend to be," said NAACP Boston Branch President Michael Curry. "That's why there's so much effort to get out the vote this year."
The NAACP is part of the RoxVOTE Coalition, which sponsored last week's candidates forum, and is one of several get-out-the-vote efforts active in the black community this fall. The coalition has been canvassing precincts in Roxbury, registering voters and coordinating phone banks aimed at reminding infrequent voters to vote on Election Day.
"The frequent voters know where their polling place is and when the polls close," explained Hasib Shaikh, civic engagement coordinator for Madison Park Community Development Corporation, which runs RoxVOTE. "Infrequent voters might need that extra reminder. We're here as a community resource for them."
RoxVOTE will also host debate watch parties, including one next Wednesday, Oct. 10 and another Wednesday, Oct. 22. Both events are free and begin at 6 p.m. at Hibernian Hall.
"We want to get people talking about the issues in the presidential race," said Angela Kelly, assistant director of community action at Madison Park.
In other parts of Boston, groups including MassVOTE are engaging in non-partisan voter registration and get-out-the-vote efforts. Union-backed efforts, like MASSUniting and the Service Employees International Union community are also organizing in Boston, as well as in Springfield, Holyoke, Worcester, Lynn and Lawrence.
While get-out-the-vote efforts in the black community will likely to play to the advantage of the Warren campaign, her organization doesn't seem to be taking the vote for granted. The campaign has opened offices on Tremont Street in Lower Roxbury and Washington Street in Grove Hall.
For at least one voter, those offices make all the difference in the world.
"I love to see a candidate in the community," said Roxbury resident Rob Plummer. "With her headquarters in the community, it's clear she's fighting the fight."