Sheila Raye Charles: Ray's baby no more, no more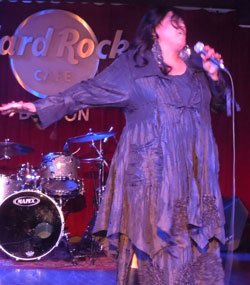 Well…that just depends on who you ask. I've spoken at probably over 500 churches this year, so if you ask them, I'm a gospel singer. But I did what my father did. I took all the g enres of music and put them together, but I sing a message of God.
So when I go into a club, into a jazz club, or a concert hall and there are people partying and having a good time, I don't come there to condemn them. I come there because in spite of everything that's going on, there are still hurt people. People who are there to see the concert – I say, "Look, this is my story, this is my life, and this is what God did for me."
You didn't have the best relationship with your father growing up, but now you include his songs in your act. What perspective and place do you sing his song from now?
When I got saved, God showed me that I was empowered through Him, not because I was the daughter of Ray Charles, and it changed the way I looked at things. That there was nothing wrong with me being just me. Then it was like wow! It's really cool to be the daughter of Ray Charles, because God even orchestrated that. He knew what he was doing when He created my father, and He knew that I would eventually continue his legacy around the world by being an encouragement to others.
Now coming from that place of not really having your father in your life, to your children not having you during your struggle with addiction and incarceration,  do you now have a relationship with all five of your children?
I have a relationship with three of them. One of my daughters ran away from foster care when she was 16; she's been with me since then. The second to the younger two have come back in my life since 2010. A promise God gave me was that my children would all be back. I don't have a relationship with my son because his foster parents are hanging on, but I look forward to having a relationship with him when he turns 18.
All I want to do is be a part of the family and share in the parenting of the children that God blessed me with and blessed them with.  So it's been a really cool experience, but a challenging experience. It's been a growing experience. I'm learning how to even be a mother again. I'm learning how to love in a purified way … It's a promise; it's a prophesy that God gave me while laying on the concrete floor of that prison, "You will see your children come back to you because you surrendered your life to me." And I believe that to be true.

For more on Sheila Raye Charles, visit http://sheilarayecharles.com/ and pick up her autobiography "Behind the Shades," available in stores now.