Warren's win fueled by high black voter turnout
Yawu Miller | 11/14/2012, 7:44 a.m.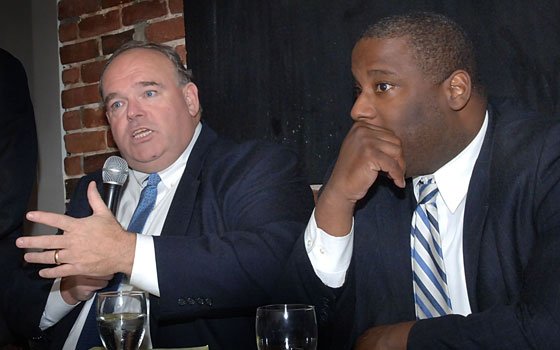 The net effect of increased get-out-the-vote efforts, combined with the added push of the presidential election, led to a doubling of the turnout in predominantly black and Latino wards and precincts in Boston over the 2010 Senate special election where Attorney General Martha Coakley lost to Brown.
In 2010, 95 percent of voters in Wards 12 and 14 voted for Coakley, but turnout was light at just 34 percent. This year, turnout and numbers more than doubled with 7,629 voters turning out in Ward 12, up from 3,530 in 2010. In Ward 14, the 11,512 voters who turned out were more than twice the 5,077 who turned out in 2010.
Democratic Party Chairman John Walsh acknowledged that the Democratic Party erred in not mobilizing its base in the 2010 special election.
"It was a terrible mistake," he said. "But that was corrected this year, especially in communities of color."
Walsh said the get-out-the-vote effort was the decisive factor in Warren's victory.
"When the polls opened Tuesday morning it was a dead-heat race," he commented. "She won by eight points."
While get-out-the-vote efforts worked well for Warren in black and Latino communities, her campaign didn't fare well in some of the city's white neighborhoods. Brown won nearly every precinct in South Boston and picked up three of the highest-voting precincts in the Cedar Grove and Neponset sections of Dorchester's Ward 16. Brown also polled near 50 percent in several precincts in Charlestown, the North End and the Back Bay.
While Brown campaigned heavily in South Boston, opening his campaign headquarters there, Warren campaigned heavily in communities of color, opening campaign offices in Grove Hall, Ashmont and Lower Roxbury.
Warren also showed up to events, including a candidates forum sponsored by black, Latino and Asian organizations, that Brown declined to attend. Warren also made appearances at the annual Juneteenth celebration and a gala sponsored by the Massashusetts Association of Minority Law Enforcement Officers, among other events.
"People got to know Elizabeth Warren," said Suffolk County Sheriff Andrea Cabral, who campaigned for Warren. "People care about the future of the community and they know there's a difference between the future of Boston with Brown and with Warren."
Walsh cited the work of unions and community-based groups like the Coalition for Social Justice in the South Coast region of the state, Neighbor to Neighbor in central and western Massachusetts, the Chinese Progressive Association and other groups as critical to Warren's victory.
Walsh also noted that a new cadre of black, Latino and Asian activists held key positions in Warren's campaign, helping her connect with and mobilize the votes in their respective communities. Both the Warren campaign and the Democratic Party learned the importance of engaging with communities of color, according to Walsh.
"The changing demographics in this state is not an academic paper to be written," he said. "It's a strategy to win elections."