Menino announces $16M early learning center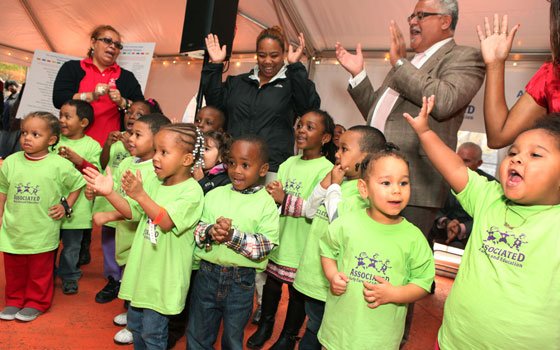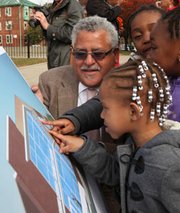 Program will take a multigenerational, holistic approach to child development for low-income children and families
Mayor Thomas M. Menino announced last week the development of a $16 million early childhood and family learning center at the Bromley-Heath public housing development in Jamaica Plain. 
Developed and operated by Associated Early Care and Education, the center will create an innovative urban learning facility for low-income families unlike any other in Boston. 
"This project will serve as a model for other housing authorities and early educators across this country," Mayor Menino said.
Menino was joined by state Secretary of Education Paul Reville; Boston Housing Authority Administrator Bill McGonagle; Wayne Ysaguirre, president and CEO of Associated Early Care and Education; Michael K. Durkin, president of the United Way of Massachusetts Bay and Merrimack Valley, and a host of other officials and community leaders. 
"Through this innovative program at Bromley-Heath, children will receive a head start on their education and parents will benefit from the knowledge that their children are in a safe, high-quality learning environment," Gov. Deval Patrick said in a statement. "Massachusetts remains a pioneer in education as we create learning opportunities for every child in the Commonwealth."  
The center is the result of a partnership that includes the Boston Housing Authority, U.S. Department of Housing and Urban Development, Associated, United Way and other community organizations and foundations.
"The center's goal is to engage the community — parents, civic partners, service providers, neighborhood leaders, public schools, health care institutions," Ysaguirre said, "to take a shared interest in helping young children achieve school readiness to succeed in school and in life."
The first-of-its-kind program to serve families and their children in a public housing development will reach more than 1,000 low-income families and house a childhood education center that incorporates a variety of creative, evidence-based curriculum and teaching methods.  
The preschool and after-school programming will be available to 175 children up to age 8, their siblings and families; 50 percent of the children will be residents of the Bromley-Heath development.
The curriculum will include Science Technology Engineering and Math programs (STEM), enrichment in physical fitness and the arts, adventure play and afterschool programs focusing on nature and outdoor exploration. 
The center will include a 12,000-square-foot outdoor play area with a natural playground and rooftop greenhouse. The building will be LEED (Leadership in Energy and Environmental Design) Gold certified to ensure energy efficiency and a healthier climate for children and staff.
The 20,000-square-foot facility will also offer parents workforce development assistance such as mentoring, interviewing and workplace coaching as well as health screenings, parenting classes, nutrition coaching and GED classes.
The project is part of Boston's commitment to universal school readiness — the Thrive in 5 movement, which Mayor Menino and the United Way launched to ensure that all kids have the support and resources they (and their families) need to be ready for kindergarten.
"We have worked a long time with the Bromley-Heath community to see this vision for a high- quality early childhood education center become a reality," said Bill McGonagle, director of the Boston Housing Authority. "We greatly look forward to the day when the learning center is bustling with activity."
The center received a $5 million grant from the U.S. Department of Housing and Urban Development. Another $11 million is being raised through private philanthropy and financing.  This includes almost $2 million from the members of Associated's Board of Directors, $1 million from the Barr Foundation, $250,000 from the Richard and Susan Smith Family Foundation, $200,000 from the Highland Street Foundation, as well as $500,000 in capital support from the United Way.
Massachusetts Housing Investment Corporation, Citizens Bank, and Bank of America are providing new market tax credits and financing. Other partners in the project are Action for Boston Community Development, Children's Hospital's Martha Eliot Health Center and Family Services of Greater Boston.
Construction is scheduled to begin in late November, with an anticipated completion date of January 2014. The center will replace an abandoned building that formerly housed the neighborhood's health center and be leased to Associated for $1 per year by the Boston Housing Authority.
Studio MLA Architects is designing the center and CWC Builders will construct the learning center.