Maud Cuney-Hare: Lifting the race through the arts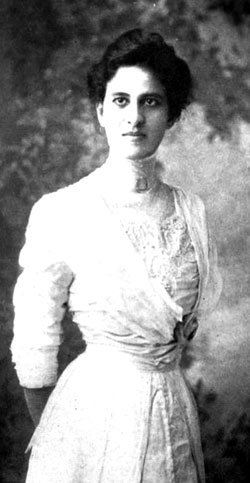 The CNL was not alone in supporting Cuney. Then-Harvard student W.E.B. Du Bois, to whom she was at one time engaged, decades later wrote, "When the New England Conservatory . of Music tried to 'jim crow' her in the dormitory, we students rushed to her defense and we won."
 Cuney defended herself, contending, "I cannot help it if I am colored. I have violated no rule. My conduct has never been met with reproof. My studies have been satisfactory; with few exceptions I believe the majority of students are with us, and I get along exceedingly well. I have done nothing that the few can take exceptions to." She concluded, "As for my color, I am satisfied with it. I expect a letter shortly from my father, and I know that he will tell me to stay, and stay I shall."
In the wake of the school's subsequent silence on the matter, she stayed, graduating in 1895 to become a masterful concert pianist and music instructor. She was subjected to many petty indignities while there, but insisted upon proper treatment.
As a student, she volunteered to help charitable organizations. In aid of St. Monica's Home for Sick Colored Women and Children on Joy Street, she and other young ladies of color gave "a strawberry high tea" on June 22, 1892. The Sisters of St. Margaret established St. Monica's Home in 1888 to accept patients with incurable cases who could not be admitted to the general hospitals and to feed those in need of proper nourishment. Cuney would later become an active participant in the League of Women for Community Service at 558 Massachusetts Ave., founded by Josephine St. Pierre Ruffin in 1918.  
Along with music, Cuney also loved literary and theatrical arts. After completing her studies at the New England Conservatory of Music, she enrolled in the Lowell Institute at Harvard University, where she continued to study English literature.   
She then returned to Texas and, in 1897, served as director of music at the Texas Deaf, Dumb, and Blind Institute for Colored Youths, outside Austin. In 1899, she taught piano at the settlement program of a black church in Chicago. From 1898 to 1902, she married and divorced J. Frank McKinley, a biracial doctor 20 years her senior. They met and married in Austin, and he convinced her to move to Chicago, where he insisted that they disavow their African heritage and "pass" as "Spanish Americans." Since her father had taught her to be proud of her black heritage, Cuney found her marriage wanting. The couple had one child, Vera, before parting in 1902.     
After two years as a music instructor at Prairie View State College in Texas, she returned to Boston. She did not stay single long; on August 10, 1904, married William Parker Hare, a black Bostonian. They settled down at 43 Sheridan St. in Jamaica Plain.
Cuney-Hare resumed teaching piano at her home. She met Boston's black intellectuals and social elite and served on the executive committee of the St. Mark Musical and Literary Union. As a longtime friend and confidant of W.E.B. Du Bois, she often wrote him letters, affectionately referring to him as "My Dear Du," and in 1907, she became one of the first women to join the Niagara Movement — a civil rights organization that he co-founded.