Harvard Professor Elizabeth Warren scores a stunning upset over U.S. Senator Scott Brown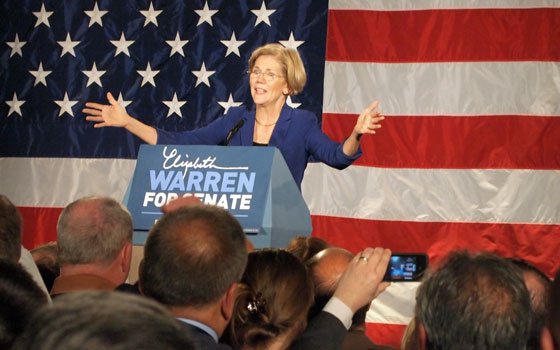 That opposition was powerful. Scott Brown, a then little know state senator from Wrentham, was catapulted into the national spotlight after his surprising win over Coakley in 2010. He did so on the strength of his everyman campaign where he drove in a pickup truck across the state and attracted mostly white, independent and conservative suburbanites.
But in the last days of the campaign, Brown tried to convey a message of bipartisanship, stressing his ability to work with democrats and even using a photograph of himself with President Obama.  
He was deemed the second-most bipartisan member of the Senate by Congressional Quarterly, a fact Brown never hesitated to tout on the campaign trail.
That strategy didn't work. In black and Latino neighborhoods, Brown's message was too little and too late. The electoral math was just too daunting. In this overwhelmingly blue state, Brown would have needed about 60 percent of independent voters and 20 percent of registered Democrats to win.
Doug Rubin, senior political strategist for the Warren campaign, said that Democrats should be proud of Warren's campaign.  
Rubin served in the same capacity for both of Patrick's successful gubernatorial campaigns and told reporters gathered at the Fairmont-Copley Hotel that that Warren succeeded in building enough excitement around her campaign to turn out huge numbers of volunteers and voters for today's election.
"To have 20,000 people volunteering for the campaign on election day is phenomenal," Rubin told reporters. "Elizabeth engaged the grassroots aspect of this from the beginning and focused on the issues important to the people of Massachusetts. We've built a grassroots campaign larger than we did for Gov. Patrick, which we thought wasn't possible. It's the person-to-person campaigning that really excited me. In the age of Super PACs, being able to engage so many people at the ground level says a lot about her. No matter what happens tonight, she has already succeeded in so many ways."

Material from published reports contributed to this story.