Sloppy reporting on RCC leads to faulty conclusions
5/30/2012, 8:18 a.m.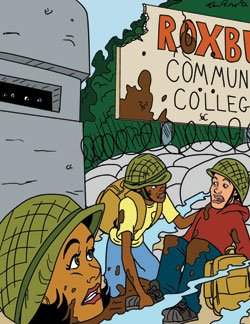 In November 2011, the Boston Foundation published a report entitled, "The Case for Community Colleges: Aligning Higher Education and Workforce Needs in Massachusetts." One of the proposals was "Massachusetts should appoint a campus consolidation commission to review opportunities to establish multi-campus community college districts, first in Boston, then elsewhere, if feasible."
The recommendation went on to propose that "the commission can be charged with determining if Boston area students and employees would be better served through merging Bunker Hill and Roxbury Community College into a new 'Boston Community and Technical College' with multiple campuses…"
Clearly Walker supports the idea of a merger. He states "educationally, that could only result in improvement…" But he seems to base that position on a meaningless RCC graduation record. Community colleges are unable to establish satisfactory performance measures. It makes little sense to apply the same standard as four-year colleges, but that is what is usually done.
Upon entering a four-year college, almost every student plans to graduate with a bachelor's degree in four years. That is not the case in community colleges. Most students plan to transfer to a four-year college after their first year or just take a few courses. Both of those approaches to education will depress the school's graduation rate, but both are the kind of educational opportunities that community colleges are supposed to provide.
One way to evaluate the academic competence of a community college is to note the admission of graduates to other highly regarded colleges. According to RCC records, some of this year's 375 graduates have been admitted to Tufts, Bentley, Leslie, Simmons, Northeastern, Mass. College of Pharmacy and Allied Health, Boston University, Salem State and other schools. So a quality education is indeed available for those able to meet the RCC academic standards.
Again on May 15, Walker filed another negative story on RCC, "Roxbury college under federal scrutiny for crime data." The issue is whether RCC properly complied with the federal Clery Act to file required information on campus crimes. Investigators from the U.S. Department of Education have not as yet issued a report that establishes any violation.
Not surprisingly, armed with the disinformation from Walker, the Boston Globe published an editorial on May 16, essentially calling for Gomes to be fired. The primary basis for their opinion is Gomes' failure to be receptive to the business leaders at the meeting that never happened. Walker failed to get the date of the incident right; he missed by seven months or so. How can anyone have confidence in the rest of his reporting of the incident?
The editorial acknowledged that since his tenure beginning in 2003, Gomes has stabilized the financial management of RCC and "the school has also earned gold citations from the Massachusetts Life Sciences Education Consortium for its biotechnology program." Apparently Gomes' successes have just made RCC a better target for acquisition.
From May 7 through May 23, the Boston Globe barraged RCC with five negative stories. Few institutions could survive such an onslaught without capitulating. The RCC trustees are to be commended for withholding precipitous action until they have all the facts. They must not let distortions from the news media influence their decisions.
However, some facts are clear. Walker is better at fiction than solid journalism. Gomes has improved the financial and academic stature of RCC. And the desire to merge RCC with BHCC is still alive and well.