Sloppy reporting on RCC leads to faulty conclusions
5/30/2012, 8:18 a.m.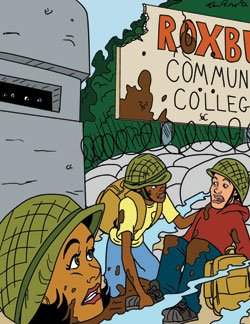 Sloppy reporting on RCC leads to faulty conclusions

Roxbury Community College is under attack. The Boston Globe unleashed a series of derogatory articles against the college and its administration during the month of May, and none were substantially supported by the facts.
The first salvo came from Globe columnist Adrian Walker on May 7 in a commentary entitled, "Taking a pass on the future." Readers were surprised and disappointed to learn that RCC President Terrence A. Gomes had passed up an opportunity "last fall" for the establishment of a paid internship program at the school to train students for promising jobs.
Walker's story asserted that Gomes showed up 45 minutes late for a meeting with a committee that included the CEOs of Raytheon, BJ's Wholesale Club and Suffolk Construction Co. and then, according to Walker, Gomes rejected the offer for the program at RCC.
Walker's facts are false. There was an incident that he is probably referring to, but it happened on Feb. 28, 2011, and not last fall, a difference of at least seven months. And there was no established meeting. A representative of the CEOs offering the program was supposed to confirm a meeting on one of several dates, but she failed to do so. The CEOs just showed up unannounced at RCC.
In preparation for the meeting that was never scheduled, Gomes' team had prepared a PowerPoint presentation to persuade the committee that RCC was a good site for their "Learn and Earn" program. However, RCC efforts to establish a meeting at a subsequent date were not successful. The program was taken to Bunker Hill Community College (BHCC).
Without substantiation Walker went on to assert that "RCC has languished." According to school records, enrollment has increased 26 percent in the last five years and RCC has received over $5 million in grants. After such a journalistically inadequate column, Walker then has the temerity to insist, again without substantiation, that Gomes is negligent.
As an experienced journalist, Walker must have become aware that his first salvo had misfired. So he tried again on May 12 with a column entitled "Roxbury Community College gets financial aid, three months late."
According to his source, $2 million in financial aid to 1,400 students was delayed by three months. Other sources indicate that there was a delay of five to six weeks of $400,000 in financial aid for 650 students. At any rate, there was a delay to be sure that the students applying for aid were enrolled in the courses that would make them eligible. This is a software problem that can be fixed. The school would be required to reimburse the government for any errors, so it is appropriate to exercise extreme care with student aid decisions.
But the commentary was not primarily about the delay in student aid. Walker wanted an opportunity to propose the idea that Gomes should be fired and RCC should be absorbed by BHCC. That idea has been floating around for decades. Perhaps that is why the group of CEOs with their "Learn and Earn" program never rescheduled the meeting, passed over RCC and took their program to BHCC.