Arts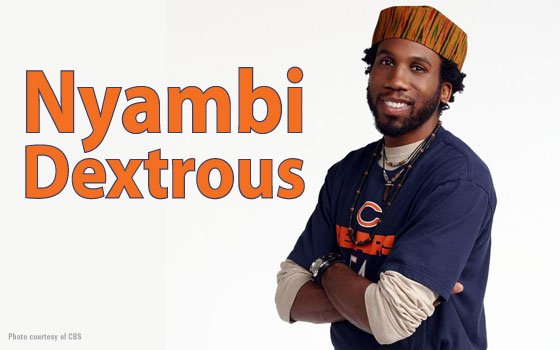 Why did you decide to get a Master's in theater, and how did you come to pick NYU over the Yale Drama School?
I got my master's in acting from NYU because I wanted to explore the great roles in the great plays and be given the arena to fail triumphantly.
My father so eloquently stated, 'Well, in Nigeria, we know Yale.' Choosing NYU was a heart decision. I wanted that playground of New York to draw characters from.
I see that you're a junior. Is Nyambi Nyambi both you and your dad's real name? Did you ever wish you had two names?
Yes, my father and I share the same name. Our names mean a lot in my family. I love my name because of the level of confusion it brings to people's faces. I wonder sometimes what life would be like if my name were Clint or Wally.
You watched a movie a day last year. What were a few of your favorites? What was the worst one you saw?
A few of my favorites were "Diner," "Midnight in Paris," "Citizen Kane," "Unforgiven" and "Sounder." The worst, but still entertaining, was "The Terror of Tiny Town."
Is there any question no one ever asks you, that you wish someone would?
You are a superhero. What is your one super power and why?
Are you ever afraid?
I am always afraid, which I have decided to be a good thing, because I'm in the face of the very thing I need to conquer. And when I conquer that fear, it is the most awesome feeling.
What is your guiltiest pleasure?
Australian licorice.
What was the last book you read?
Richard Pryor's autobiography, "Pryor Convictions."
What was the last song you listened to?
Isaac Hayes' "Walk On By" from the "Hot Buttered Soul" album.
What is your favorite dish to cook?
Rice with stew.
 What excites you?
Any art form from the soul.
Who is your favorite clothes designer?
Right now, John Varvatos.
What was the best business decision you ever made, and what was the worst?
Best business decision I ever made was becoming an actor. Worst business decision I ever made was the belief that ignorance was bliss.
When you look in the mirror, what do you see?
Joy and promise … and a stain on the right corner of the glass.
What is your earliest childhood memory?
Running through a courtyard in Oklahoma being chased by a dog that eventually bites the back of my right leg.
If you were an animal, what animal would you be?
I would be a hyena disguised as a lion.
When do you feel the most content?
When I am traveling.
Who is the person who led you to become the person you are today?
My parents and sisters as a unit led me to become the person I am today. All love.
What key quality do you believe all successful people share?
The audacity to fail gloriously again and again.
What advice do you have for anyone who wants to follow in your footsteps?
Joy. Find it. Seek it, and hold on to it. It will get you through the pain.
How do you want to be remembered?
He celebrated life and all of its flaws.