The 'Queen of Disco' never forgot her Boston roots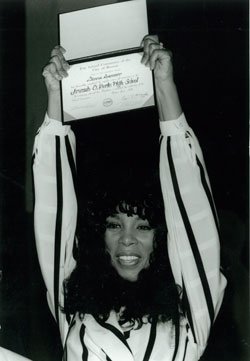 A private funeral was held Wednesday in Nashville, Tenn. Since 1995, Summer and her husband, keyboardist/producer Bruce Sudano, had lived nearby in suburban Brentwood.
There they raised two daughters, Brooklyn and Amanda, and Summer's daughter Mimi from her previous marriage to Helmut Sommer, an Austrian whose last name she Anglicized and adopted as her own.
Summer, who became a born-again Christian in 1979 and married Sudano in 1980, left Los Angeles for family reasons.
"Raising my kids in Hollywood, there wasn't enough of a core of a moral structure there," she told The Tennessean newspaper in 2008.
Summer last performed in Boston two years ago, at the Bank of America Pavillion. Yancey said he went backstage and chatted with her.
She gave a concert at the same venue in 2008. That performance was a fundraiser for Action for Boston Community Development. ABCD's records show that when Summer was 17 she worked in its summer jobs program.
Yancey said Summer was also a financial supporter of the Boston Home, a venerable Dorchester institution for physically-challenged people.
In 1983, she returned to Burke High to finally receive her high school diploma. School officials credited her life experience and coursework in drama, diction and voice toward her unfulfilled graduation requirements.
Ferriabough went to Logan Airport to meet Summer, who summoned her former classmate by name from a limousine to share the luxury ride to Dorchester.
On the way to Burke, Ferriabough recalled Summer saying, emotionally: "Of all the awards I've ever had in my life — and I've won a lot of awards — coming back home to get my diploma means more than anything to me except the birth of my daughters."
Summer won five Grammy awards and six American Music Awards, with her creative output all together selling more than 130 million records around the world.
Her first Grammy was for Best Female Rand B Performance on "Last Dance," which also won an Academy Award for Best Song as part of a 1978 movie's soundtrack. She won the next year in Best Rock Vocal Performance, Female for "Hot Stuff."
"He's a Rebel" and "Forgive Me" won back-to-back Inspirational Performance Grammys in 1983 and 1984. Her last, in 1998, was in Best Dance Recording for "Carry On."
Not bad for a woman born on New Year's Eve in 1948 who spent her first six years living in the former Mission Hill housing project. The Gaines family, which grew to have seven children, six girls and one boy, moved from there into a triple-decker that still stands on Parker Hill Avenue near Roxbury Crossing.
Summer is survived by her brother Ricky Gaines and four sisters: Dara Bernard, Mary Ellen Bernard, Linda Gaines and Jeanette Yancey. She also leaves her husband Bruce Sudano, daughters Brooklyn Sudano, Amanda Sudano and Mimi Dohler, and four grandchildren.
Hometown friends said the title of Summer's 2003 autobiography, "Ordinary Girl," was apt. Despite fame and fortune, she remained approachable.
"She was a great person. She helped put Boston on the map as far as music goes," Yancey said.