'Growing Power's' Will Allen revolutionizes food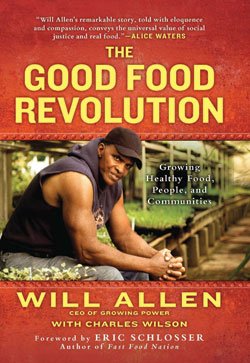 Just as important, Growing Power became an integral part of the community by offering jobs to low-income residents, training people in growing and cooking, hosting youth programs and selling food at an affordable rate. These community ties, Allen said, are what make urban farms sustainable.
Allen's work was based on a simple, but radical belief: "I believe that equal access to healthy, affordable food should be a civil right — every bit as important as access to clean air, clean water, or the right to vote," he writes in his book.
But initially, not everyone understood what he was doing. "Fifteen years ago, I would be in African American communities and people would ask me, 'Why are you doing a slave's work?'" Allen said.
Now, those criticisms have disappeared. "I don't hear that anymore, I think because first lady Michelle Obama embraced growing food by putting the small garden on the White House lawn," he explained. "As I travel around the country, I see more African American folks wanting to get back into growing food, and wanting to learn because they didn't learn."
Of course winning the "genius" award helped, too. "It really helped the movement and our organization," Allen went on. "And as a person of color, I think it's helped propel people. When I go to communities, they're proud that I'm involved, because the movement was pretty much dominated by white folks from universities and organic farms for many, many years."
Now, in addition to heading Growing Power in Milwaukee, Allen travels the country, teaching others how to start up their own urban farms.
Despite all that he has achieved, Allen insists his work is still in its "infancy stages." And his goals are nothing small: "Less than 1 percent of food in cities is local, and I'd like that dynamic to change to 10 percent. That'll have huge implications in terms of job creation and our health. It's predicted that 42 percent of us will be obese by the year 2030, and we have to work on that so that statistic goes away."