Jackson Square project officially breaks ground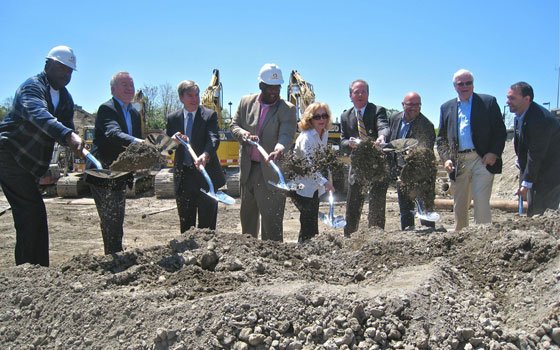 Mitchell spoke of how the Jackson Square redevelopment will "reknit the neighborhoods of Roxbury and Jamaica Plain," torn apart 40 years ago when homes and businesses were razed in preparation for the extension of highway I-95 into the city. The I-95 plan was halted in 1972 by strong community opposition, but not much has been done to breathe life back into the vacant land until now.
Jackson, too, stressed renewed neighborhood ties.
"When it comes down to it, Jamaica Plain and Roxbury are really one community, connected," he said. "Even though they tried to stick a highway between us, we will not allow folks to divide us."
Moving forward, the shared goal of the community will be economic development, Jackson emphasized."We have now a goal to make sure the people building these communities are people who are from this place," he said, "and that businesses in this community are benefitting from dollars flowing in."
Cofield introduced himself as a Roxbury native, lifelong member of the Boston community and 27-year union member.
"It's good to see cranes in the air, because that means jobs," he said. "This is a good thing for the community. We actually have very, very qualified men and women here in the community who can build these buildings. We don't have to go elsewhere." This drew enthusiastic applause from the audience of 100 or so residents and civic leaders.
Gleason emphasized that MassHousing's investment in the project is good business.
"This was an opportunity we couldn't let pass," he said. "We have to make investments like this. It's not a grant, it's not a handout—it's an investment. You're going to pay this money back, and this area will be a success for generations to come."
Planning for the project dates back to 1995, when citizens and local groups, including Jamaica Plain Neighborhood Development Corporation (JPNDC), Urban Edge and the Hyde Park Task Force came together with city officials and developers to form a comprehensive plan for Jackson Square redevelopment.
The overall 14-building project is expected to add some 400 units of housing and 60,000 square feet of retail space, and to cost $250 million.
At 225 Centre Street, the 103 apartments will include 35 designated as affordable. Uses for the commercial spaces, including a 10,000-square-foot flagship space facing the Columbus Avenue and Centre Street corner, have not been determined.
The topic of access to construction jobs has been a source of concern at recent meetings of the Jackson Square Citizens' Advisory Committee (CAC). The construction jobs on this project, whose contractor is Walsh Brothers, will be available to union workers only.
Trade unions have been notorious for being "old-boy" organizations. Some of the CAC members say union projects exclude too many people, and open-shop projects are the way to bring economic growth to minority communities.
At the groundbreaking ceremony, Councilor Jackson seemed to take a different view, suggesting there is change afoot in union opportunities.
"The average age in the Boston building trades is 54 years old — so in the next 10 years, there's going to be a shift," he said. "Unions have been good for a lot of people. And a lot of folks who were bricklayers, their children are pursuing other paths. So now is an opportunity for people of color to step in, take our rightful place in unions, and be able to take care of ourselves and our families as others have been able to do in the past. It's a new day, and we have a new opportunity.