Inciting racial passions
5/9/2012, 9:46 a.m.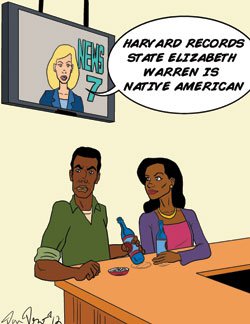 Inciting racial passions

One of the major conflicts in the nation's capitol in recent years was the effort to establish the Bureau of Consumer Protection. Battlefield reports made it clear that Elizabeth Warren performed with competence and courage under fire. In fact, Republican opposition to her appointment as the first director of the new agency was so hostile that she graciously withdrew so that her presence would not impede the agency's inauguration.
Now, Warren has emerged as the likely Democratic opponent to Scott Brown's re-election as U.S. Senator from Massachusetts. Republicans realize that they confront a formidable opponent in Elizabeth Warren. Voters can expect a no-holds-barred campaign by Republicans to damage Warren's candidacy.
The attempt to brand Warren as an "affirmative action baby" is no accident. When Republicans found that Warren had acknowledged Native American ancestry, they asserted that she was hired as a Harvard Law School faculty member because her racial minority status gave her an affirmative action preference.
Such claims are rarely made once the individual has demonstrated professional prowess. Only die-hard bigots were still concerned about the recruitment of Jackie Robinson to break the racial barrier once he proved to be such an outstanding baseball player. Ted Williams, the great Boston Red Sox star, concealed his Hispanic ancestry during his playing days to avoid confronting the bigots.
Even before Warren came to Harvard she had established a reputation as an expert on bankruptcy law and was considered to be a gifted teacher. She had already served on the faculty of the University of Texas and the University of Pennsylvania, both top-ranked law schools. According to reports, Harvard Law Professor Charles Fried, who had been Solicitor General appointed by President Ronald Reagan, recruited her without any consideration of her race.
This Republican effort was no mistake. Political operatives know that conservatives have a profound hatred for affirmative action. They have come to believe that to provide opportunities for racial minorities unfairly discriminates against deserving whites. Add to that the subliminal aversion to minorities that many whites share, and it is clear that Republicans have tried to create a problem for Warren.
However, the Republicans have inadvertently also shot themselves in the foot. During the Republican primary, conservatives have taken a number of anti-woman positions that will come to haunt them in November. Their hostility toward Warren does not represent a departure from their "no girls allowed" posture.
Since Warren appears to be unalloyed European, no one would be aware of her minority heritage except by her own acknowledgement. As recently as the mid-20th century, Americans would go to great lengths to conceal such genealogical matters. Many states had the "one drop" rule that stigmatized anyone as a minority with the slightest evidence of non-white ancestry, no matter how remote. It was not until 1967 that the U.S. Supreme Court in Loving vs. Virginia ruled that anti-miscegenation laws were unconstitutional.
Clearly, Warren is so professionally competent and talented that she does not need any affirmative action assistance. It should be encouraging to voters of good will to note that she is willing to identify so intimately with the status of being a minority in America.