All the single ladies
5/2/2012, 8:58 a.m.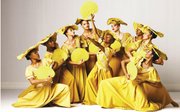 All the single ladies
I could hear the buzzing and chatter as I made my way to the packed ballroom at the Ritz Carlton Hotel to support Boston Globe's Meredith Goldstein at her party for her aptly titled book "The Singles."
The evening was filled with a "who's who" from the PR, media and art worlds including TV Diner producer Jenny Johnson and WGBH-TV's Jared Bowen. Everyone looked absolutely fabulous. The food was delish, the desserts were scrumptious (especially the cake-pops, one of my new faves), and the bubbly was flowing. The belle of the ball was gracious and excited to have everyone support her first book. From what I hear, "The Singles" makes for juicy reading and, rumor has it, it could be up on the big screen in the near future.
Everybody say 'Yeah, Yeah'
Exhilarating, explosive and colorful are just a few of the words that came to mind after seeing FELA! I was captivated by the charming Sahr Ngaujah, who plays afro-beat pioneer Fela Anikulapo Kuti. I can only imagine that the real Kuti was even more of a ladies' man in his day.
I was hypnotized by the extraordinarily talented dancers. The way the dancers moved to the beat of the bongo was fluid, poetry in motion. They glided across the floor like when Michael Jackson first did the moonwalk on national TV. People went crazy.
The musical tells the story of an artist who, despite being imprisoned and tortured, challenged a ruthless regime and united his fellow Nigerians through music. It's a story about the human condition that touches all souls and hearts. It's a must see!
Welcome back, Ailey
It had been many years since I saw Alvin Ailey. I must say, I really enjoyed their performance, especially their rousing new work called "Home," which was choreographed by Rennie Harris. It fused hip hop dance moves with gospel house music. I was in heaven. What a way to kick off a performance!
After interviewing Kirven Boyd Johnson, it was awesome to see him perform a solo in "Takademe." And, of course it wouldn't be an Alvin Ailey performance without the seminal work "Revelations" which included "Rocka My Soul in the Bosom of Abraham." It was pure magic.
Coming up
This Friday at 8 p.m., Gladys Knight with special guest Brian McKnight perform at the MGM Grand Theater at Foxwoods.
South African native Jonathan Butler performs Sunday, May 6, at Scullers Jazz Club for two shows at 4 p.m. and 7 p.m.
The award-winning Broadway musical FELA continues performances at the Cutler Majestic Theatre through this Sunday, May 6. Tickets are available at www.artse merson.org.
Kirsten Greenidge's "The Luck of the Irish" has been extended through Sunday, May 6 at the Calderwood Pavilion at the BCA. Tickets are available at the box office by calling (617) 266-0800.
Community Works presents its 30th Anniversary Kickoff event, "Share A Laugh," on Thursday, May 10, with comedian Wendy Liebman and Friends at the Somerville Theatre in Davis Square. Showtime is at 7:30 p.m. and tickets are available at www.communityworks.com.
Comedian Aries Spears comes to town on Friday, May 11, at The Wilbur Theatre for one show at 7:30 p.m.

If you would like me to cover or write about your event, email me at inthemixwithcolette@gmail.com.