Stepping It Up for children and families in Boston
3/21/2012, 8:13 a.m.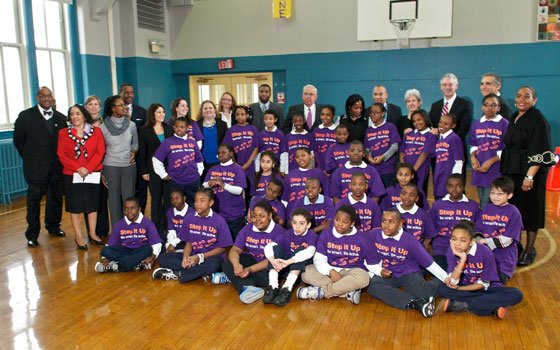 Starting next month, more than 350 school children from six Boston Public Schools will begin Partners Step It Up — a fun, competitive healthy living program that merges technology, physical activity and nutrition in the classroom.
The program was created through a partnership among Partners HealthCare, the Partners Center for Connected Health, Boston Public Schools and DotWell, and was launched in a pilot program in two elementary schools last year. It includes providing "sneaker chips" (pedometers), and nutritional tips to students whose classrooms compete against each other in a virtual foot race across the country. Each week, the teams receive step reports that include individual and team step counts. The steps are tracked on a map of the United States and milestones are noted when students have walked enough steps to have finished a soccer game or the Boston Marathon. In this year's 10-week challenge, students will compete in a virtual race from Boston to Orlando, Fla.
"Boston Public Schools and Partners HealthCare share a commitment to keep our children active and healthy, and teach them the benefits of regular exercise and good nutrition," said Carol R. Johnson, Boston Public Schools superintendent. "Partners Step It Up has been a real catalyst in our elementary schools, to engage our children in healthier lifestyles. This year the Edward Everett Elementary, John F. Kennedy Elementary, Joseph P. Manning Elementary, Oliver Wendell Holmes Elementary, William E. Russell Elementary and the Mario Umana Academy will all have the opportunity to participate in the program."
As an organization, Partners HealthCare is committed to the overall health of the communities it serves. "Staying healthy is about making healthy choices and taking small steps toward wellness every day," said Gary Gottlieb, M.D., president and CEO, Partners HealthCare. "We want to help the young people of our city live active, healthy lives, and this collaboration is a fun and creative way to encourage that."
From the very beginning of the pilot last year, the challenge created healthy competition and camaraderie among the students, teachers, and staff members in the schools. The students were very enthusiastic and creative in finding ways to increase their step counts and eagerly shared their step reports with friends, families and even their classmates who were not involved in the competition.
"We have been delighted at how students have embraced technology-based health programs," said Joseph C. Kvedar, M.D., director, Center for Connected Health, Partners HealthCare. "Our goal is to use available technology to raise awareness and education about the benefits of increased activity, and help motivate children in the community to be fit and active."
Last month, the program caught the attention of Health and Human Services Secretary Kathleen Sebelius who visited the Oliver Wendell Holmes School in Dorchester. The program was piloted at this school last year. The secretary was delighted with the private-public partnership that focuses on getting young people moving. "We know that the health and well-being of our kids is a growing concern," said Sebelius. "Today there are more reasons to stay inside on the couch. Fast, unhealthy meals can be easier to get than nutritious ones, and the result is that almost one in every three children in our nation is overweight or obese. The Partners Step It Up initiative is a great example of how a private partner like Partners HealthCare and a public partner like the Boston Public Schools can come together to help kids get and stay healthy."
Partners Step It Up supports Partners HealthCare's community health work that aims to improve the health and well being of the people it serves through prevention, and to help people make healthier choices and live healthier lives.