Melnea Cass Blvd. redesign plan inches forward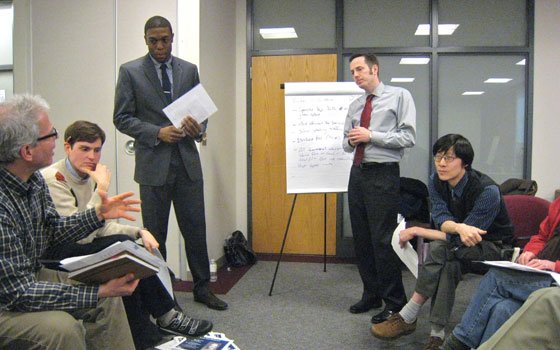 Another key topic was where to place the new dedicated bus lanes — at curbside or along a center median.
Nick Jackson, a senior planner with Toole Design Group, described the main features of each option.
Center-located bus lanes and stations allow faster bus travel, said Jackson, and are the preferred option in Urban Ring plans. Passengers load and unload at stations built on a center median. The median becomes a safe halfway point for pedestrians crossing the street.
With curbside bus lanes, like those used by the Silver Line on Washington Street, bus traffic can be slowed by right-turning and double-parked cars. Streets with curbside bus loading have less room for street parking and provide no automatic pedestrian refuge in the center.
Another option used in some cities is to have bus lanes in two directions placed on one side of the street — an option "not very doable here," Jackson said.
For both center and curbside bus lane examples, the design drawings show Melnea Cass Boulevard with two lanes of general traffic in each direction and an added lane for street parking on each side.
In small-group sessions following the presentation, attendees listed current priorities and questions and mulled over the bus lane topic. By the end, it appeared that in most groups people generally leaned toward the center-median option, though one presenter said her group included someone who was against BRT lanes in any form.
One group had worried that center bus lanes would cause increased danger or difficulty with pedestrian street crossings, but then considered the example of the Green Line T stops on Beacon Street in Brookline and agreed it is possible to satisfactorily accommodate transit lanes, street parking and safe traffic crossings.
Some groups kept their eyes on economic development, suggesting that signs should be added pointing the way to Dudley Square, and that new businesses at Melnea Cass Boulevard's intersections should have entrances facing the boulevard.
"We have to encourage people to stop, and to shop," one presenter noted.
A few people said they hoped traffic calming measures would not stifle traffic flow for drivers.
Rep. Rushing, who was quick to express discontent at the first meeting when presenters did not address key aspects of past community activism and planning, had a positive assessment this time.
"I think they're right on track," he said, speaking after the meeting. "There is more consensus than disagreement."