Fresh Veggie and Canadian Bacon Pizza with Homemade Crust
3/21/2012, 8 a.m.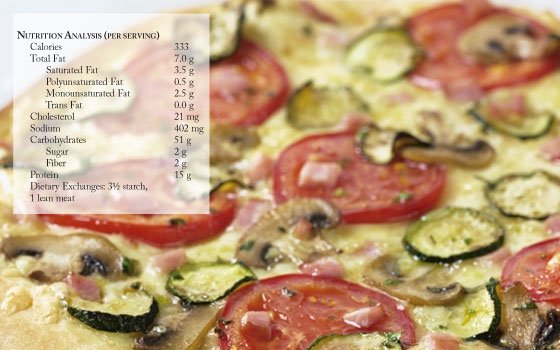 To prepare the dough, put it on a large, lightly floured surface, such as a counter, and press each piece of the dough into a flat disk. Work one disk in your hands, rotating it around and around while pulling it out gently until it is 12 inches in diameter. Repeat with the second disk.
If available, set one or two pizza stones on the oven rack in the lower third of the oven. Preheat the oven to 500ºF.
Dust the peel with cornmeal and place the dough on top. Brush each pizza with 1 teaspoon olive oil. Sprinkle with the cheese. Top, in order, with the tomato slices, Canadian bacon, vegetables and herbs. Slide the pizza off the peel and onto the pizza stone in the oven.
If you do not have a pizza stone, turn two sheet pans (at least 12x18 inches) over and sprinkle lightly with cornmeal. Assemble as directed above. (If you have only one sheet pan, assemble only one pizza at this point.)
Bake the pizzas for 8 minutes, or until the cheese is bubbly and the crusts are golden brown. Let the pizzas rest for 3 minutes before cutting each into 8 slices. Serve 2 slices to each person.