Coming up….
3/21/2012, 9:25 a.m.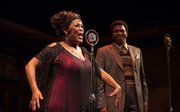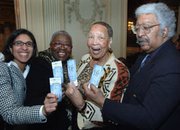 It has been a great couple of weeks exploring and discovering the theater and art productions that are currently going on throughout the city. With nature in bloom as a backdrop, the arts offer a new perspective in thought and vision. Here's a sampling of some of the events that I attended.
Oh, Danny Boy!
I know my friends couldn't believe I was attending the recent performance of Celtic Woman's new show "Believe"— and neither could I. But I was offered tickets and knew my mom would love it, so I bit the bullet and off we went.
It was an incredibly entertaining show featuring classic Irish songs, a full band with violinists and an Irish dancer. It was a breathtaking show that allowed me to appreciate the rich culture of Ireland through song and dance. Even though I was only familiar with two of the songs, "Danny Boy" and "Ave Maria," it didn't matter. The Celtic Women's voices were beautiful, rich and textured, and my mother and I left feeling happy and content.
"Mother of the Blues"
I'm embarrassed to admit that I haven't seen an August Wilson play until now. But, I am delighted to report that my first one was "Ma Rainey's Black Bottom." The ensemble cast stars Yvette Freeman (from "ER"), who gives a powerful performance as the legendary blues singer Ma Rainey.
"Ma Rainey's Black Bottom" is the first of 10 plays that August Wilson wrote as part of his "Century Cycle" chronicling the African American experience of each decade of the 20th century. No wonder this man won a Tony and a Pulitzer Award. I felt humbled as I sat and watched Freeman's portrayal of Rainey and the wonderful cast. I can't imagine living in 1920s Chicago and dealing with the adversity, racism and sexism of that era. Grown African American men were referred to as "boy" and women were either invisible or seen only as sexual objects. See Ma Rainey while it's at the Boston University Theatre. It will open your mind and your heart.
You learn something new everyday…
I finally discovered that the "big head" statue that sits atop of the hill at the National Center of Afro-American Artists is seven feet tall and is called "Eternal Presence." I was excited to learn that it was conceptualized and created by John Wilson, an African American artist and sculptor who was born in Roxbury in 1922.
Prior to this, I had never heard of him but had seen various incarnations of his work over the years. They are so visually stunning! I found out that another one of his pieces is the large-scale sculpture called "Father and Child Reading" that rests in front of the Media Arts Building at Roxbury Community College. His work is bold, daring and socially-conscious, which I think is what appeals to me. The strength and story in the images that he creates left me spellbound.
Wilson's work was part of the fifth annual "AD20/21: Art and Design of the 20th and 21st Centuries" at The Cyclorama at the Boston Center for the Arts. The retrospective was presented by Martha Richardson Fine Art of Boston. The good news is that Richardson will be presenting an exhibition of his work from his time in Mexico this September in Boston. Wilson, who turns 90 this year, is slated to attend. I can't wait to see more!