Bill raises mandatory school attendance age to 18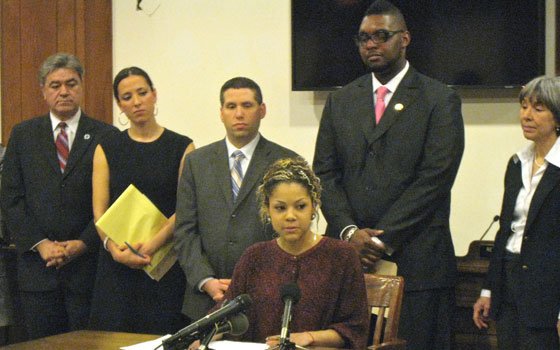 According to Sum, male high school dropouts will have lifetime earnings of $600,000 less than high school graduates; for female dropouts, the difference is $400,000. Over their lifetime, from ages 18 to 74, high school dropouts will pay half a million dollars less in taxes, on average, and will require more in government expenditures than high school graduates.
"So it's less income for them and more cost to the rest of us," he said.
Responding to questions about the bill's funding, Chang-Diaz explained that the cost of the graduation coach program will be borne by the state, not cities; and funds already in place for standard and alternative education could be tapped for the costs of additional students staying in school or receiving alternative services during long term suspension, she said.
She cited the high return on investment for a bill that could help would-be dropouts become productive members of the labor force and stay out of jail. High school dropouts make up 70 percent of the state's jail and prison population, she noted, at an average cost of $46,000 per inmate per year — while a year of public education costs about $11,000.
"I want to push back on the notion that this is a net cost bill," she said.
Regarding the change in mandatory attendance age, it would be phased in, she said, moving from 16 to 17 in fall of 2013, and to 18 in fall 2014.
"There has been a debate [over the years] about how effective it is to raise the age if you're not going to do the other supports around it," Chang-Diaz added — but she said this bill contains the proper measures to make it work. "We're not just going to say, 'Your bottoms have to be in the chairs for two more years, but we're not going to change anything about your level of engagement.' "
The bill now goes to the Senate Committee on Ways and Means for a cost analysis.