The clock is ticking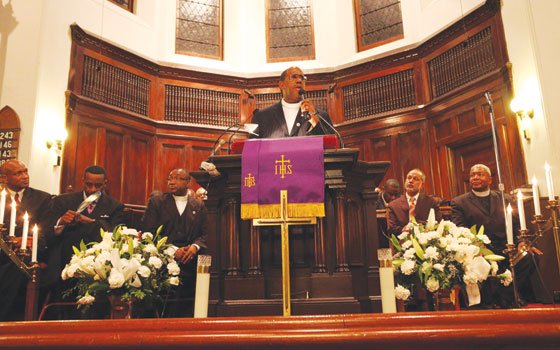 Leading that charge was Mayor Thomas Menino. "We're not going to stand for corporate greediness," Mayor Menino told the crowd on Sunday. "We're not going to let anyone take away one of the bedrocks of the Roxbury community […]And for people listening in [Washington, D.C.] who bailed out this bank, enough is enough."
Apparently, OneUnited also believed that enough was enough.
On Oct. 3, 2006, Groover, who is also the Boston School Committee chairman, agreed to borrow $3,652,000 to build the community center. That loan became due on June 1, 2008, and despite a total of five extensions, the church was unable to satisfy its debt by Sept. 1, 2009, the extended deadline.
A year later, on August 17, 2010, OneUnited then sued in Suffolk Superior Court for breach of contract. Also named in the suit was Charles Street AME's co-signer, the First Episcopal District of the African Methodist Episcopal Church based in Philadelphia.  
Charles Street had also borrowed another $1.1 million — separate from the $3.6 million construction loan — to refurbish the church. That loan is also in default.
A foreclosure notice was printed in the Boston Herald last month announcing imminent sale of the church and its property, including a residential building in Milton valued at $662,000. The sale is scheduled on March 22.
"Its unfortunate that they had to resort to [foreclosure]," Groover told the Boston Globe in a recent interview.  "This is clearly a result of their anger around litigation. Or maybe it was simply to humiliate and embarrass us."
Or maybe an attempt to collect a debt.
"As an FDIC insured depository institution," OneUnited wrote in a statement, "the bank has a process for working with borrowers who have had difficulty meeting their financial obligations. It is not the practice of the bank to foreclose on a mortgage in the absence of a borrower's default […] We trust the community will not rush to judgment without full knowledge of all the facts. From its inception as an outgrowth of the civil rights movement, OneUnited always sides with the community to protect our community's assets."
On that point, both sides agree — Charles Street AME is a community asset.
"We applaud the important role that Charles Street A.M.E. Church plays in our community," OneUnited wrote in a statement.
But OneUnited also asserted the importance of its role.  
"As a Community Development Financial Institution focused on serving low-to-moderate income neighborhoods of greater Boston," the bank stated, "OneUnited recognizes the impact the economy is having on our small businesses and not-for-profits. We are flexible in our efforts to assist borrowers, while remaining consistent with the safe and sound banking practices. We continue to be hopeful that our efforts will result in a stronger community."