Rock Lobster delivers timely message about bullying and gay bashing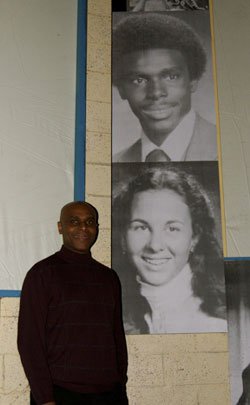 Shain convincingly moves from soft shell crustacean to rock lobster—hence the title of the book and the play. Shain also does well with Aaron's deep love and respect for his parents.
Felix Teich makes a scene-stealing swaggering first entrance in sunglasses and leather jacket. Paul can throw caution to the wind but also provides Aaron with unique mentoring about self-esteem and empowerment. Teich evokes this complexity from the start in a performance that is nothing short of brilliant.
Also noteworthy are Paul Plum and Richard Snee (married in real life) as Aaron's parents. While family scenes sometimes take on touches of sitcom face-offs, their performances always find the truth of the situations. Plum brings together Loretta Fricke's deep warmth and her concern about public perceptions.
Snee evokes Walter Fricke's support for his son as well as his somewhat stoic demeanor. Sophia Pekowsky has both the nerdiness and kindness of Aaron's injury-prone friend Claudia Cooper. Sean Crossley is properly nasty as gay-bashing ringleader Bill Quillar who kicks Aaron punishingly—credit Adam McLean's strong fight choreography.
Other standouts in a very solid and large cast are Douglass Bowen—Flynn's disturbingly cynical principal Richard Lynch—who condones bullying and homophobia and Allan Mayo's sharply timed wisecracking observer John Delaney from the National Gay Task Force.
Clark's informative and heartfelt adaptation has as much to say about living in a shell as it does about adopting a position of strength about life and love. Matthew Haber's striking projections not only recall Aaron's class but also point to the sadly continuing epidemic of bullying and homophobia.  
There is serious talk of "Reflections of Rock Lobster" stagings throughout the country. Fricke's insights and Clark's admirable play are teaching invaluable lessons about respect and understanding that should be required curricula everywhere.
Reflections of a Rock Lobster, Boston Children's Theatre, Calderwood Pavilion, Wimberly Theatre, Boston Center for the Arts, through March 11. 617-424-6634, x222 or www.bostonchildrenstheatre.org