Kerry Washington talks about her latest role with Eddie Murphy in "A Thousand Words"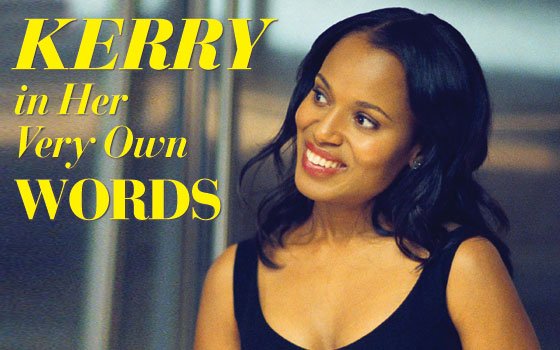 What is the next challenge you're taking on in life and as an artist?
Well, right now, I'm shooting a feature with Quentin Tarantino, which is very challenging.
Do you have an interest in playing any heroic ancestors, such as Harriet Tubman?   
I do, eventually, although I haven't settled on any specific people yet. There are so many untold stories when it comes to great women of color. Harriet Tubman's definitely a "shero," for sure. And I just heard that Regina King is doing Shirley Chisholm.
What would be your dream role?
Right now my dream role would be to have another season on 'Scandal,' which will be debuting on ABC on April 5th, because that has just been a tremendously fulfilling experience, artistically, which I'd love to be able to continue. It's been phenomenal to work with the quality of writers I've been exposed to on that project.
Some are wondering whether you would consider organizing a legends luncheon, like Oprah did, so elders can share their life lessons with aspiring young sisters?
I'm not sure that organizing such a function is my role in the community right now, but I'm always happy to participate when somebody else can. [Chuckles]
If others weren't already doing it, I might feel the need to fill the void. But, today, for example, I'll be attending Essence Magazine's fantastic Women in Hollywood event. I look forward to that every year.
And Alfre Woodard hosts a big dinner every year during awards season. So, there are already a number of gatherings centered around women of color who are doing inspiring work.    
What excites you?
Sunshine, swimming and home-cooked meals.
How did your first big heartbreak impact who you are as a person?
I think my first big heartbreak made me more compassionate about other people's heartaches. It enabled me to feel more for others when they are in moments of pain.
What key quality do you believe all successful people share?  
I really don't know whether there is only one, actually. There are many different types of success, so, I don't think the formula can be reduced to just one key quality.
When do you feel the most content?
When I'm taking care of myself physically, emotionally and spiritually.
What motivates you?
Wanting to be of service. Not wanting to waste this life that I've been blessed to have.