Warren warmly welcomed at Roxbury celebration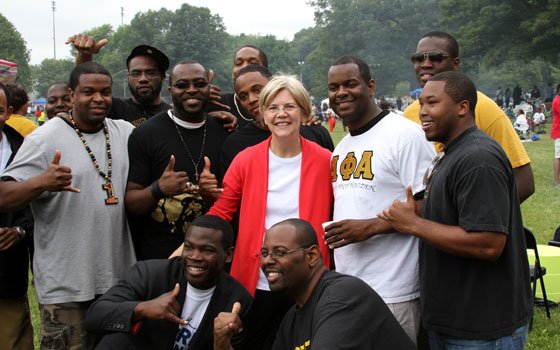 Sounding an ominous note about Warren's opponent, incumbent Republican Senator Scott Brown, entrepreneur Priscilla Douglas offered praise for Warren, but warned against taking this race lightly.
 "Warren has the courage of her convictions, has solid ethics and she is someone who will represent all of us in Congress," Douglas said. "This is a very important election and this is an important vote to cast. Scott Brown does not represent us. He is not our friend. Don't be fooled."
While the sentiment surrounding Warren's candidacy was overwhelmingly positive, there were some who voiced the desire to see more of both Warren and her agenda as it relates specifically to communities of color and those not quite included in the so-called "middle class."
"When you tout the middle class, you also need to give us something that is palatable to our community," said Donovan Walker, founder of the Developmental Neighborhood Coalition and longtime community advocate. "Black or white, rich, poor or middle class — we all vote. You are not being inclusive just because you label everyone as middle class. There is no way that Elizabeth Warren is going to be able to beat Scott Brown without minority participation. She needs to come into our communities and tell us what she stands for, and she needs to articulate what kinds of actions she'll take to impact the lives of people in our community."
Community activist and Democratic supporter Bruce Bickerstaff said the community has already seen what it has with Brown. "He's shown that he has never made a real effort to reach out to us as a broad community," Bickerstaff said. "People of the African Diaspora and in the Latino community would like to see an agenda that lays out some of the concerns that we have around health care, employment and training, the effects of CORI and other issues that affect us inordinately."
 Though both Walker and Bickerstaff reiterated the call for more dialogue between the candidate and communities of color, each expressed confidence that the qualities and abilities that Warren possesses are the foundation of a strong Congressional advocate.
 "I trust that she comes from a good place in terms of her heart," Bickerstaff stated. "She doesn't need to become a 'professional politician,' we just need her to be a strong advocate on issues that directly impact our communities."
Walker said Warren can win the election. "Let me be clear, she can win this seat, but her success is in her hands," she said. "She is a viable candidate. Elizabeth Warren is not the kind of person who is going to play along to get along. She's not going to be bullied. She will make a good senator, but she has to inspire registered voters to come out and vote."
For more than a few in attendance such inspiration may have already struck.
 "Her words were the spark that ignited a fire in me," said community advocate and Roxbury resident Hasib Shaikh. "She is a real advocate and she will help to bring back the funding that we need to address some of the needs that we have in our communities."
 Echoing the same passion expressed to her by many of the day's participants, Warren gave a glimpse into the engine that drives her candidacy.
 "This is just part of my heart," Warren said. "This is just who I am. I grew up in a hardworking family. If our families don't have real opportunities, then we don't have a future. You might as well ask me why I breathe. It's who I am."