Obituary: Gretchen L. Jackson
6/20/2012, 9:57 a.m.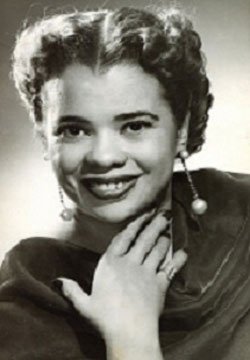 Gretchen Lucinda (Flippin) Jackson, 93, of Milford, died Wednesday, June 6, 2012, in the Rose Monahan Hospice Center in Worcester, with her son and his family by her side. She was the beloved wife of the late Dr. Clarence Noel Jackson ("Doc"), who died in 1988.
Jackson was born Nov. 13, 1918, in New Rochelle, N.Y., the daughter of the late Robert J. and Clara (Johnson) Flippin. Jackson was a 1937 graduate of New Rochelle High School, N.Y., and Drake's Business School. A resident of Milford since 1994, she previously lived in Allston.
Along with her late husband, she owned and operated Douglas Square Pharmacy in Boston from the 1940s until his death in 1988. She established the Gretchen Jackson Model Agency in the 1960s, which utilized both black and white models. Jackson was also employed for several years as an administrator for Boston City Hospital, retiring during the 1970s.
Jackson was known as a warm, gracious, dedicated woman who gave generously of her time and talents. She was active in her community and was a founding member of the United Neighbors of Lower Roxbury, a neighborhood association dedicated to maintaining and improving the quality of life in that city.
Jackson was the first black woman to have a radio show in Boston on WVOM, which later became WBMS. She was also a former Boston and Pittsburgh newspaper columnist, and once served as an overseas correspondent for Fame Magazine of Bermuda, a place she enjoyed visiting. A respected advocate for the black community, Jackson was active in the political campaign for former Boston mayor Kevin H. White.
Gretchen was a member of the New England Women's Press Association, Urban League, Girl Friends, Inc. and Jack and Jill of America Inc. Many notable articles have been written regarding her accomplishments in broadcasting, publishing, advertising, public relations and allied professions. She is noted in Who's Who of American Women, Who's Who in the East, and Foremost Women in Communications.
She was an active and supportive member of the Trinity Episcopal Church in Milford.
Jackson is survived by a son, Toussaint N. ("Touie") and his wife Barbara W. Jackson of Milford; two grandchildren, Tracey N. Morse and Bryan A. Jackson, both of Milford; two great-grandchildren, Jenessa and Whitney; two sisters-in-law, Zita C. Jackson of Dorchester and Barbara Boutin of Tallahassee, Fla.; and many nieces, nephews, cousins and friends. She was predeceased by a son, Carlton F. Jackson, who died in 2010, and three brothers, James Goosby, Robert J. Flippin, Jr. and Wilton R. Flippin.
A Celebration of Life with Eucharist will be held Friday, June 22, 2012 at 11 a.m. in the Trinity Episcopal Church, 17 Congress St., Milford, MA 01757.
In lieu of flowers, memorial donations may be made to the Trinity Episcopal Church, Memorial Fund, 17 Congress St., Milford, MA 01757 or the VNA and Hospice of Greater Milford, 37 Birch St., Milford, MA 01757.
 Arrangements are under the direction of the Buma-Sargeant Funeral Home, Milford. www.bumafuneralhome.com