'A Chorus Line' of high energy dancers on stage at Reagle Music Theater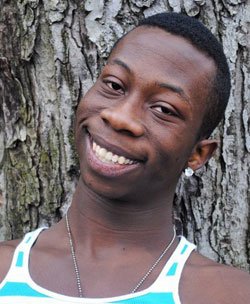 Wilson was especially excited about her opening solo section on "What I Did for Love." "It is exciting," she explained. "It kind of feels like a big responsibility. It's such an iconic song. Characters are making decisions. The director is making a decision."
Like Amos, Kerri greatly values the decisions the dancers make in their initial auditioning routines. "It's a nice window into … showing what you can do," she said.
If any show demonstrates what performers can do, it's "A Chorus Line." In the Reagle Music Theatre's fresh take, many of the performers display the kind of line kicks, quickly timed routines and high energy that a first-rate line demands.
Leslie Woodies has  clearly fired up her dancers` for a revival that often catches the  emotional intensity and electricity of a true singular  sensation. Aimee Doherty, an actress of great range in her Reagle debut, has all of Sheila's attitude and allure and sings with the right vulnerability for her character's revealing reflections in "At the Ballet."
Scott Abreu's monologue as effeminate gay dancer Paul will break even a jaded theatergoer's heart. Kerri Wilson's heartfelt Diana, Amos Oliver's plucky Richie and Jeremy Towle's assistant choreographer Larry are all strong in support.
The one relative disappointment is Katie Clark as Cassie. She dances acceptably, but Cassie needs to be so visceral a la Donna McKechnie and Woodies that audience members feel pain when she decides to reign in her talent and toe the line as a chorus member. Clark needs much more speed on the finish of Cassie's signature number "The Music and the Mirror." Her work ought to be as fiery as Cassie's iconic red dress.
Lorenzo Lamas ought to speak with more toughness as decisive choreographer Zak, but at least he delivers his lines with more authority than in the early going of the otherwise strong "The King and I" revival last year at the North Shore Music Theatre.
Amos Oliver and Kerri Wilson are pursuing their careers as performers with considerable authority. Oliver enters his senior year at Boston Conservatory this fall. Wilson joins the  ensemble of Fiddlehead Theatre Company's revival at the Strand Theater of "Ragtime" September  28 - October 7 and will understudy the coveted role of  Sarah.
"A Chorus Line," Reagle Music Theatre, Waltham High School, through June 24. 617-891-5600 or reagleplayers.com.