City council hears minority contractors' business problems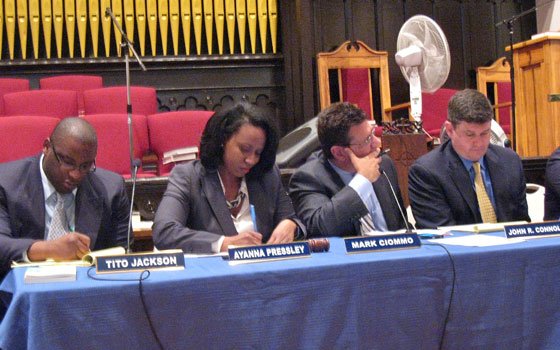 Webster and others traced the history of the family businesses that were started, grown and steered through tough times by their parents.
Pressley thanked the business owners for their testimony and "pioneering example." She said, "I wish our young people knew as much about you as they know about Kevin Garnett," a remark that drew an affirming round of applause.
Pressley also expressly thanked Connolly, as a white colleague, for co-sponsoring the hearing and keeping a firm commitment to minority hiring issues.
"It's important that we have a diversity in the coalition supporting this work," she said.
Several city officials spoke and fielded questions about the city's policies and record on construction hiring and payment.
Evelyn Friedman, chief of the Department of Neighborhood Development, said there are only a few projects, such as renovation of city-owned foreclosed properties, on which the city hires and pays contractors directly. Her findings show that on average, the city takes 18 days to process payments. But adding in the time for developers to submit paperwork beforehand and get the final checks to the contractors at the end, the wait easily stretches to a month or more.
Friedman said improvements in electronic processing in the works will speed things up, but acknowledged the city needs to improve its "fix" process when things go wrong. She noted one case where payment took 113 days.
Brooke Woodson, director of the city of Boston's Small and Local Business Enterprise (SLBE) office, spoke about the Boston Resident Jobs Policy and current reporting and accountability standards.
Woodson said Boston and other cities have been sued repeatedly over policies attempting to give a leg up to minorities and women. Because of that, he implied, the city must focus instead on policies to bolster small and local businesses, without specific race and gender rules.
An ordinance requiring stricter reporting of hiring numbers was passed in 2008, but is widely felt to be virtually ignored. Some said implementation has been slowed by wrangling over the wording of a form, and expressed amazement it has not been properly implemented in four years' time.
Nonetheless, the Boston Resident Jobs Policy, established in 1983, remains in effect. The ordinance requires a "best-faith effort" by general contractors on city-funded projects to allot 50 percent of the work hours to Boston residents, 25 percent to minorities, and 10 percent to women.
Under questioning by Yancey, Woodson said he has only three staff members to monitor 200 projects, drawing groans and boos from the crowd. In addition to this small staff, the seven-member Boston Employment Commission oversees jobs policy enforcement, and a committee of citizen volunteers also watches over the numbers on some projects.
But the city jobs policy, even if enforced, applies only to individual workers, not businesses. As Cruz noted, the city currently has no policy to help increase the proportion of minority and women businesses and professionals on city projects.
David Lopes, a board member of Mass Minority Contractors and owner of Wellington Design and Construction in Mattapan, shook up the mainly calm proceedings with a fiery call to action.