BUILD preps students for entrepreneurship, college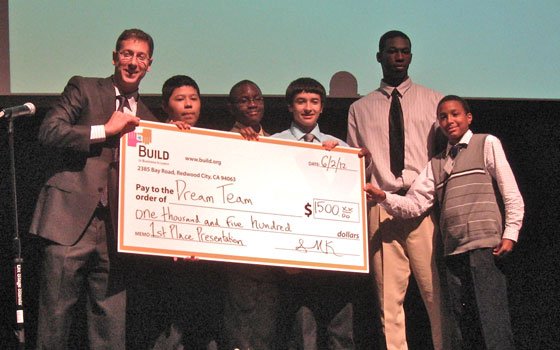 He said the biggest things student entrepreneurs have to learn are professionalism, consistency, and presentation skills — and he is in awe of his team's progress.
"To think that in ninth grade, they can present like that, it's amazing," he said, speaking over the post-event hubbub in the auditorium. "That is such a life skill, going forward. And they now realize that practice is so important. It has been awesome to see their confidence develop."
This fall, the Boston program will double in size as the current students move into year two and a new set of at-risk freshmen begins the journey. One of the current challenges for BUILD-Boston, Shakur noted, is to recruit enough mentors to match with the new teams.
Patel expressed great satisfaction with his involvement with the BUILD students.
"It's a huge commitment, but what you get out of it is more than you put in," he said. "You build a real connection. They need it. I need it, too."
In a way, his words mirrored the spirit of the Dream Team's closing question to the audience and judges at the Youth Business Plan Competition:
"Can you help us achieve our dreams, while we help remind you of yours?"