BUILD preps students for entrepreneurship, college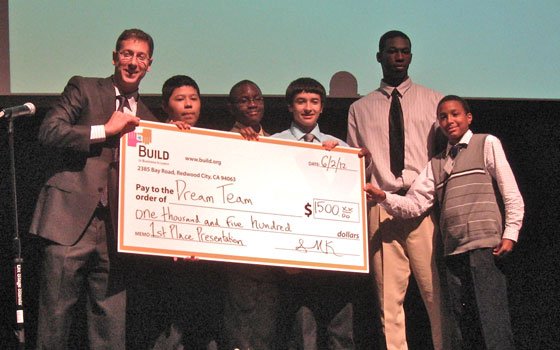 "We all have dreams, don't we?"
That's how a group of entrepreneurs-in-training called Dream Team grabbed the audience's attention at the recent BUILD Youth Business Plan Competition.
The five Charlestown High School ninth graders faced an auditorium packed with parents, teachers, local businesspeople and scores of teenagers, many dressed for success in crisp shirts and ties or skirts and jackets. The competition, held June 2 on the Northeastern University campus, was the final hurdle of their first year with BUILD, a nonprofit that uses entrepreneurship training to engage at-risk high school students and propel them toward college.
"People lose track of their dreams," continued Cristhian Belisario, Dream Team's 14-year-old CEO. "We're going to fix that."
He and his teammates then outlined the "wow factor" and cost analysis of the product they've designed: an inspirational iPhone case, made of bamboo and customizable to have the purchaser's own dream etched into it.
They also faced a panel of judges, who watched intently and asked tough questions. These judges would determine which of the final four student teams won $1,000 in cash along with $500 in seed money to help launch their product.
BUILD was founded in 1999 in the San Francisco Bay area. The operation expanded to Washington, D.C. in 2008 and launched in Boston last September. In its first year here, the program served 102 students at four Boston public high schools: Charlestown High School, Another Course to College, Jeremiah E. Burke High School and the Community Academy of Science and Health (CASH).
The program is heavy on entrepreneurship training in the freshman year, and gradually builds up its college prep focus, adding academic tutoring, college tours, test prep and help with college and financial aid applications as the students progress through high school.
Nationally, BUILD boasts impressive statistics. 100 percent of its seniors are accepted to college; 95 percent are in minority groups underrepresented in college; 80 percent are of the first generation in their family to attend college.
Ayele Shakur, regional executive director for BUILD Boston, said she witnessed positive results in Boston even in the first year.
"As early as November, we could see changes, with students becoming more confident, and better at public speaking," Shakur said. "The journey from September to June is like night and day. We have students who never thought of themselves going to college now talking about colleges and what they're going to study."
Shakur explained that BUILD selects the students most at risk of failing or dropping out. Several of this year's participants were repeating ninth grade. One student already has a baby of her own.
"We tell them, stick with BUILD and you'll make it," Shakur said.
She attributes the program's impact to its dual focus on entrepreneurial ventures and college planning.
"It's all about real-world learning," she said. "They wonder, how is school going to help me in my life? And we're able to say to them, in order for you to do the financials, you'll have to do those math calculations; you need writing skills to write that 20-page business plan. They see how success in school will transfer to success in life."