Arts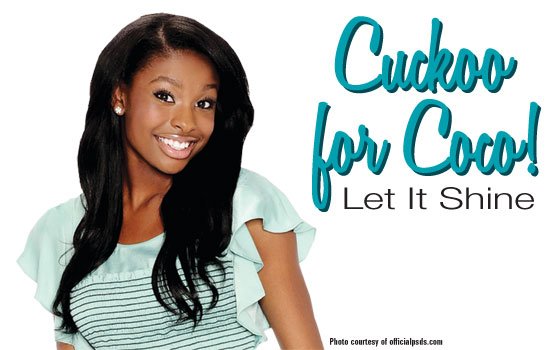 Another great message that girls will take away from Roxie is to love yourself. All girls my age know about wanting to fit in. I think that they will watch Roxie trying to do the same thing with her clothes, make-up, and her entire performance.
Over the course of the movie, she learns to be herself, to develop her own style, and to not change herself to please others.
You sing, rap, dance and act. Which is your favorite?
I honestly love it all, which is why I enjoyed playing Roxie. Through the character, I was able to showcase all of my talents.
You became a national sensation when you were a finalist on Radio Disney's Next Big Thing competition. Do you have a concert tour on the horizon?
Yes, and I am so excited! I will be all over the United States throughout 2012. I love to see people enjoy my music and my shows.
You were just signed to a recording contract with Hollywood Records. What was that like, and what kind of music can your fans look for in the near future?
Signing with Hollywood Records was a dream come true. I am so blessed to get to do the things that I love to do every day of my life.
My fans can expect to be blown away with the music I'm writing. The day after I signed my contract, I went right into the studio. My new album will have pop, rap, RandB and some huge ballads.
You're only 14. How do you balance the demands of school and career?
Well, sometimes it is hard because my schedule is crazy. I am home-schooled, so my school travels with me. My parents have one rule for me: I can't do any of this if I have any Cs on my report card.
Is your online course work mostly an extension of your performance interests?
Unfortunately, no. It is the exact same work any eighth grader would do.
What do you plan to study in college?
I'd love to major in music. I love what I do, but I want to really understand it more in-depth.
Are you ever afraid?
No, not really ... I guess I'm used to all of it by now. I just tend to feel really excited!
Are you happy?
I am sooooo happy! I have a great family that loves me, a record deal at 14, and I get to do what I love every day.
When was the last time you had a good laugh?
Every day, especially any time I am with my daddy. He's so funny! My whole family jokes around a lot.
What is your guiltiest pleasure?
Purses. When I want to treat myself, I will almost always get myself a new handbag.
What was the last book you read?
I have read some great books recently: "Heaven is For Real," "Bud Not Buddy," and my favorite, "Tiger Eyes."
And my next book will be "The Hunger Games."