Ferdinand redevelopment design nearing completion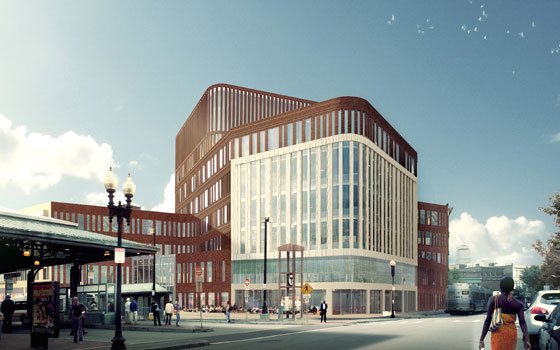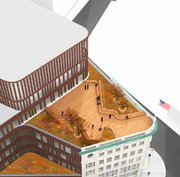 A rendering of the Warren Street corner of the new municipal building that will occupy the Ferdinand site. The design combines new brick and glass construction with the preserved facades of the Ferdinand, Curtis and Waterman buildings, not shown in this view. (Image courtesy of Mecanoo/Sasaki)
City officials and the Ferdinand redevelopment project's design team presented the latest design plans last week for the new municipal building soon to rise on the old Ferdinand's Furniture store site in Dudley Square.
The $115 million project's "design development" phase is nearing completion, said Maureen Anderson, senior project manager with the city's Property and Construction Management Department, at the July 12 meeting of the Dudley Vision Advisory Task Force.
The municipal building is expected to open in fall 2014 as the new headquarters for the Boston Public Schools, with street-facing retail and restaurant spaces on the ground floor. It will fill the entire triangular block bordered by Washington and Warren Streets and the Dudley Square bus station.
Architect Nick Brooks of Sasaki Associates presented slides showing the current design plans created by Sasaki and the Dutch firm Mecanoo Architects. Their design adds modern brick-and-glass construction around and above the preserved historic facades of the Ferdinand, Waterman and Curtis buildings.
The plans will be presented to the Boston Landmarks Commission on July 24, Brooks said. The hearing is at 4:55 p.m. in room 900 of Boston City Hall.
The general design is largely the same as those shown in previous task force meetings over the fall and winter, though some fine-tuning of materials and finishes have been made and a sixth-floor roof deck was shown for the first time.
The building will have two prominent entrances, one on Washington Street, roughly across from Vernon Street, and the other facing Dudley station. The entrances will lead into a large, open, high-ceilinged lobby with a center staircase leading up to the second level, above which will be four floors of BPS offices.
In the second-level lobby area, the planners envision a Wi-Fi enabled area in which visitors can fill out school registration forms on their own laptops or provided computers while waiting to see BPS staff members. The second floor also includes a large room for school committee meetings, and offices for a few other organizations, including the Roxbury Resource Center and WriteBoston.
Floor six opens out onto a roof deck that sits atop the old Ferdinand building. The deck offers a wide view of the city and the current design features benches, plantings, and a wood-floored open terrace.
Some of the spaces on floors two and six are designated as multi-purpose rooms that could be used by community groups seeking meeting or conference space.
There was no further discussion at this meeting about the "Skylab" proposal presented at an earlier meeting June 28. Skylab is envisioned as a multi-purpose educational enterprise that would need rooms for lectures and conferences and could include a "fabrication lab" for hands-on science and technology projects for all ages. Skylab proponents hope to secure space in the municipal building, ideally with access to the roof deck for events and student gatherings.