Clement Garnett Morgan: From slavery to Harvard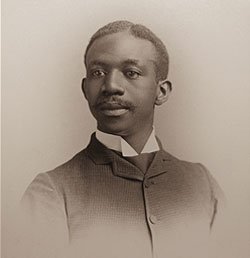 Emanating race pride, he declared, "I love the Negro race and am not ashamed of Negro blood" and "if any of you are ashamed of your blood it is cowardice." Loud applause followed. He told those present "to educate thoroughly."
"We must accumulate and we must demand an open field and fair play," he said. "Be united, be proud of your blood, and condemn anyone who speaks spitefully against it," he added.
Morgan lived on Columbia Street in Cambridge until 1897, when he moved to 265 Prospect St. But he still maintained his law practice at 39 Court St. in Boston.
Eighty-five African Americans, mostly Southerners, are known to have been lynched in 1902. In August of that year Clement Morgan and his good friend Butler R. Wilson, intent on protecting a black man from the South's dreaded lynch law, represented Monroe Rogers. He was a fugitive wanted in Durham County, N.C., on the charge of arson — a crime punishable by death.
 "We cannot afford in these days to let every colored man be sent back south because someone down there says he's guilty of some crime," Morgan said at the time. "If this bright young fellow, whom I don't believe to be guilty of the crime of arson, is allowed to go back to North Carolina without a vigorous protest, it will not be long before Southern officers, upon every little provocation, will be running up north here, seeking colored men under some excuse or other" and making "the North a field of search similar to the days of the fugitive slave law."
When the Guardian newspaper editor William Monroe Trotter and his associate Granville Martin were arrested and charged with disturbing a public meeting at the Columbus Ave. A.M.E. Zion Church on July 30, 1903, at which black leader Booker T. Washington was the guest speaker, Morgan, who had attended that meeting, defended them. He presented an impassioned argument to Judge Bennett of the Boston Municipal Court, asking him to take into consideration the "intense feeling among colored people" over Washington's policy of accommodation.
"The lines are closely drawn" he said, and Trotter had a right to ask questions of Washington, as that had been the custom among black people. Morgan denied that Trotter and Martin had attended the meeting to break it up, and he told the court that the case had attracted great attention throughout the country, and that "the colored race" was "really before the bar at this time."  Judge Bennett, however, found Trotter and Martin guilty as charged and sentenced them to 30 days in jail.
In 1903, black parents in the western Massachusetts town of Sheffield refused to send their children to the segregated Plain School. Morgan was there to file a complaint on their behalf, alleging unjust discrimination. He was, in fact, chiefly responsible for closing the school.
How would he have dealt with the problem of crime? In 1904 he said, "The remedy for crime is education, and more of it, together with just laws."