Arts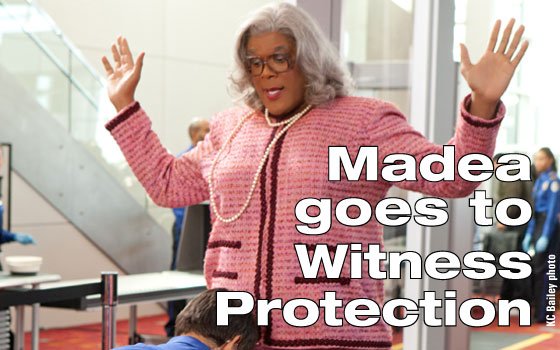 In July 2009, Tyler sponsored a trip to Walt Disney World for 65 children after learning that a suburban swim club had turned them away because of the color of their skin. In January 2010, Perry pledged $1 million via The Tyler Perry Foundation to help rebuild the lives of those affected by the recent earthquakes in Haiti.
Perry practices what he preaches, and what he preaches has endeared him to millions of fans drawn by that unique blend of spiritual hope and down-home humor that continues to shape his inspiring life story and extraordinary body of work.
Here, he talks about his latest film, "Madea's Witness Protection," which he not only wrote, directed and produced, but also stars in, playing three roles, including the sassy, straight-talking title character.  
Where did you come up with the idea of mixing Madea with a family in the Witness Protection Program?
I was having dinner with a friend, and we were talking about Bernie Madoff, and he said, "You know what would be a great punishment for Bernie Madoff? If he had to go live with Madea." [Chuckles] I thought, man, that's a great concept! I need to go write that script. And then when I asked myself who could play the Bernie Madoff character, of course, I thought of Eugene Levy.
How did you determine the casting? You went for a lot of veteran comedians this time out: Marla Gibbs of "The Jeffersons," Doris Roberts of "Everybody Loves Raymond," and even Charlie Sheen if you don't mind my mentioning him.
That's okay, since he's only in the outtakes at the very end of the movie. But I was definitely looking for some heavyweights to help me carry the picture, and those were the right people to rely on. So, I'm pretty excited about it.     
What message do you want people to take away from the movie?
What is clear to me is that it's about everything in your life: Work and struggling, and paying attention to grinding, grinding, grinding. It takes their going into a simple situation, living with Madea, a woman who doesn't even have wi-fi, to realize what family is, come back together, and get to know each other.
Do you wear a girdle as Madea?
"Hell no!" It's bad enough being stuffed into that costume. It's just one piece that gets zipped up the back.  
 Is there a new genre of movie that you would like to make in the future?
Absolutely! It's not a new genre, but a new genre for me: Sci-fi. I have a great sci-fi story that I'm currently working on. I'm going to be all over the place… all over the place.
What advice do you have for young people entering the movie industry who want to be multifaceted like you are?
You have to want it more than breathing. Developing a good work ethic is key. Apply yourself at whatever you do, whether you're a janitor or taking your first summer job, because that work ethic will be reflected in everything you do in life.