Corporate tax loopholes trigger downtown protest
Yawu Miller | 1/31/2012, 6:33 p.m.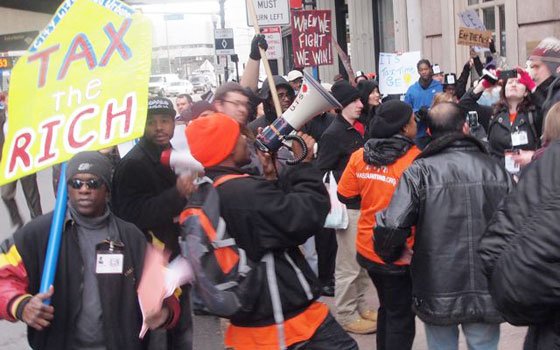 "I would like to see unemployment benefits extended and more jobs for people," said Gloria Murray, an activist who lost her job as a fair housing information specialist last year due to HUD funding cuts. "I would like to see corporations pay their fair share of taxes and I would like to see people come together and elect Barack Obama."
The union's aspirations also dovetail neatly with those of local community-based organizations like City Life, which is seeking to highlight the struggles of families fighting foreclosure and unfair bank practices.
"It's one of the best examples of a community/labor collaborative," Meacham said. "The union has put out some serious resources."
MassUniting has funded an organizer for City Life and helped them send 34 activists to Washington, D.C. for the Take Back the Capital rally in December.
"It's something City Life organizers ordinarily wouldn't get to do," Meacham said.
Additionally, MassUniting has helped turn people out to City Life's actions, including eviction blockades and their occupation of a foreclosed building in Dorchester.
"They've helped us to grow as an organization to do the kind of community work we want to do," said Glorbel Mota, executive director of Neighbors United for a Better East Boston.
MassUniting has channeled funding to help the organization hire an additional organizer and has helped foster a closer working relationship between the group and SEIU Local 615, the janitors' union which has many members living in East Boston, Mota said.
The funding MassUniting has provided its member organizations will likely run out soon after the November election.
"Our planning arc is through the end of 2012," Stephany said. "At the end of the year we'll reevaluate."
Whether or not the organization stays active, its actions have helped raise the profile of the economic justice agenda many local groups have been working on, according to City Councilor Felix G. Arroyo.
"It's had a very positive impact," he said. "They recognize that a lot of organizations are working on these issues in Massachusetts and recognize that by helping them with staffing and funding and they've been a very good addition to the economic justice movement in Massachusetts."