Corporate tax loopholes trigger downtown protest
Yawu Miller | 1/31/2012, 6:33 p.m.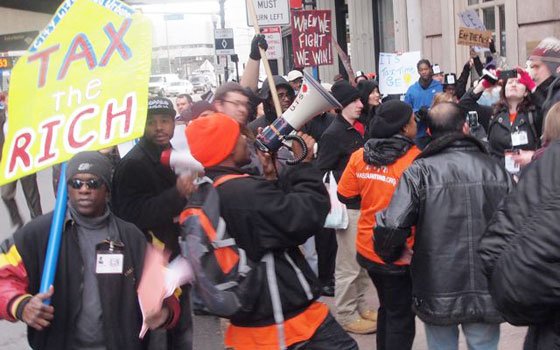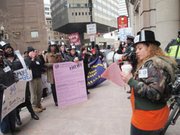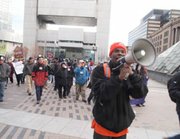 The media reports early last year revealing that General Electric paid no taxes in 2010 provided a window into the rarified world of corporate tax loopholes.
Last week, a coalition of Boston-area activists descended on GE's Boston office and presented corporate officials with a past-due bill for what they characterized as a case of unfair tax dodging.
"Corporations want to be treated as people," said Darren Howell, an organizer with MassUniting. "They should pay taxes like people. The average middle class household pays 25 to 33 percent of their income in taxes."
GE, which earned $11.6 billion in profits in 2010, actually received a $3.2 billion tax refund that year, resulting in what Howell says is a -27 percent tax rate.
As Howell addressed a largely black and Latino crowd of several dozen activists on the street in front of GE's 125 Summer St. office, a delegation of activists stood outside the doors of GE's office suite in a vain attempt to present corporate officials with a mock tax bill.
"We rang their bell," said Steve Meacham, an organizer with the housing rights group City Life/Vida Urbana. "We knocked on their door. They refused to come out."
The action, which involved several community-based organizations from the Greater Boston area, was the latest in a string of protests organized by MassUniting, a coalition backed by the Service Employees International Union that is working to highlight issues including income inequality, corporate accountability and fair wages.
The coalition is one of many SEIU is supporting in states around the country in what many observers see as a push to highlight economic justice issues in the 2012 election year — a strategy that could help Democrats hang onto the White House and gain seats in Congress and the Senate.
Here in Massachusetts, MassUniting has already targeted Republican U.S. Sen. Scott Brown with two actions. In the most recent, earlier this month, MassUniting bused in dozens of out-of-work Massachusetts residents to a job fair Brown's office hosted in Worcester to protest eight votes he cast in the Senate against extending unemployment benefits.
Their largest action to date, the Oct. 1 march on Bank of America, saw more than 3,000 people march on the corporate offices of the bank and 24 arrested in a sit-in protest that coincided with the kick-off of the Occupy Boston movement.
"We're in a watershed moment in our nation's history," said MassUniting spokesman Jason Stephany. "The reason there has been so much success in the 99 percent movement is because people are so fed up they're willing to take to the streets."
Stephany said MassUnited was able to forge a close working relationship with the Occupy Boston movement and provide them with resources. Members of Occupy Boston appeared at last week's rally against GE.
With a readily available supply of jobless activists, MassUniting seemed to have little trouble filling the sidewalk in front of GE's office last week. It's a moment in history where SEIU's political aspirations line up neatly with those of many black and Latino activists who are out of work.