Students honor Dr. King's legacy with a day of service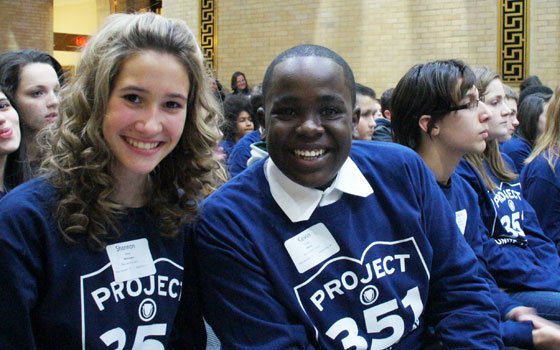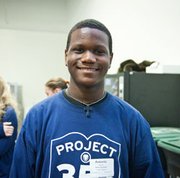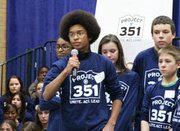 In honor of Dr. Martin Luther King  Jr., more than 300 students from 351 towns and cities in Massachusetts participated in a day of service last Saturday. The program, called "Project 351," brought together eighth grade leaders, called "Ambassadors" who volunteered their day at four service sites in Boston.
As a reminder of the spirit of Dr. King, each student wore across the back of their shirt, his words, "Everybody can be great because anybody can serve."
The day began with a town hall meeting in the Statehouse led by Gov. Deval Patrick and Lt. Gov. Timothy Murray before the teens went to their service sites.
In Roxbury, the students aimed to inspire the residents of the Dr. Martin Luther King Towers. Sixty students created Dr. King themed murals in the lobby and made fleece blankets and care packages for the elderly residents of the Towers.
At the Boys andGirls Club of Dorchester, 100 ambassadors assembled backpacks, painted murals or made blankets and scarves for the infant to pre-school aged club members. Also in attendance at the Boys and Girls Club was former Celtic Dana Barros and members of the Celtics Dance Team.
The remaining students either visited the Greater Boston Food Bank to pack healthy snacks for children and groceries for elderly residents of Eastern Massachusetts, or they visited Cradles to Crayons in Brighton to create care packages. The packages were filled with essential items to keep homeless and low-income children safe, warm and ready to learn.
Many of the ambassadors remarked that Cradles to Crayons altered their perspective. In the clothing room, teens sorted warm weather gear and other essentials for kids — items that these eighth graders could always count on finding in their closets.
"I was in Cradles to Crayons and I was working in the clothing section, and I was surprised — I didn't really think that kids didn't have these things," said Katherine Cabral, an eighth grader at Joseph A Browne Middle School and resident of Chelsea. "I was glad that I could contribute to this," she said, "being a part of something greater is something really amazing."
Joe Morselino, an eighth grader from Dedham, Mass. said that he was inspired by the day's activities and hoped to continue to serve his community in any way that he can. "I feel as though it's important to embrace the idea that our service doesn't end here," he said.
He was one of six volunteer "reporters" who spoke in the Great Hall of the Statehouse at the end of the day. "We should think about how we can give back to our community at home, maybe through our town, our school or just at home helping our parents around the house. This was a great experience and I am honored to be a part of it and I hope I can take part in things like this in the future."
Gov. Patrick wrapped up the event by speaking to the students about the impact they have on the Commonwealth, and on each other. He told them that their service on this day, and every day that they support their communities is an act of grace.
"The gesture of grace has power," he said. "It's transformative. It's lasting. That's what we ask you to be about; not just what you do, but who you are. And through you, and those gestures of grace, we will build a better Commonwealth and a better world."