'…Strong and smart'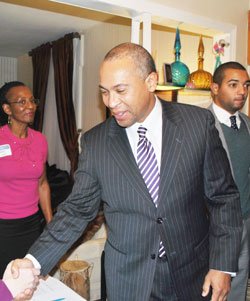 We have moved, at massive public expense, from treatment for drug offenders to indiscriminate prison sentences, and gained nothing in public safety. Ninty-two percent of the total prison population — 92 percent — is eligible for release at some point, and many come out more dangerous than they were when they went in.  
States across the country — most recently, Ohio, Delaware and South Carolina — have already recognized the folly of mandatory minimum sentences for nonviolent drug offenders and made significant reforms.
So, alongside our reform of the Habitual Offender rules, we must have a comprehensive reentry program. We need more education and job training, and certainly more drug treatment in prisons and we need mandatory supervision after release.
And we must make nonviolent drug offenders eligible for parole sooner. By permitting them to have supervised release after serving half their sentence, we can begin to re-integrate four to five hundred nonviolent offenders in the next year and save millions in prison costs every year.
We must be smarter about how we protect public safety.  That means targeting the most dangerous and damaging for the strictest sentences, and better preparing the non-dangerous for eventual release and re-integration. We don't have to choose the one or the other, and emphasizing prison time without successful re-entry has failed.
Again, for the good of the Commonwealth, send me a bill with the right reforms to both our Habitual Offender law and our mandatory minimum sentencing laws for nonviolent drug offenders. I will not accept one without the other.
Excerpted from Gov. Patrick's 'State of the State' address on Jan. 23, 2012.