49ers tight end Vernon Davis talks about life and his team's prospects during the NFL playoffs.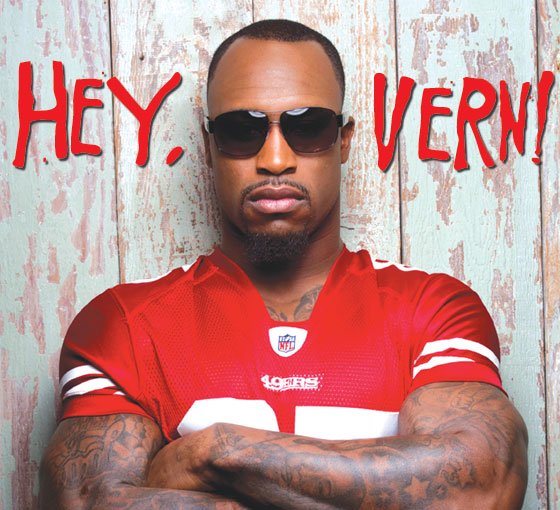 Tell me, what [does] it feel like to score a touchdown in a packed stadium in front of thousands of fans? 
There's nothing like going out on the field on a Sunday and making plays in front of a large audience of fans and having them cheer for you. You can hear the cheers, and then again you can't, because you're in the moment and you've just scored a touchdown.
You've just beaten someone. And to be good at something you're so competitive about is a feeling you can't explain.
Precious few pairs of siblings have been able to make it to the NFL. I can think of Eli and Peyton Manning and Tiki and Ronde Barber. What do you attribute your and Vontae's success to? Your genes? Luck? Hard work?
I'd have to say hard work. We've worked so hard to get to where we are today. And nothing comes easily in terms of success. If you want success, you have to work hard at it and realize that it takes time; it doesn't come to you overnight.
I was just speaking with my little cousin on the telephone who wants to be a singer and she was upset and a little discouraged because she wants to be a singer and it's not happening yet. But what I told her is that instead of being upset, you should be practicing, because the harder you work the more successful you'll become.
All my life, I've worked hard, knowing that someone else is out there is trying to outwork me. So, I'd be out there on Christmas and during winter breaks. That's how I've kept my edge.
Some have observed that you and your brother do a lot of charity work. What gives you the most satisfaction?
Giving back and trying to create opportunities that will be advantageous to kids in the future. When I was a kid, I didn't get to meet role models from the NFL or the NBA. So it means a lot to me to put a smile on their faces by showing up. 
You launched a design company last year, Modern Class Design. What are your future plans with it? 
To take it to a whole new level with urban renewal projects. I look at this business venture as an opportunity to give back and build my brand at the same time. At the end of the day, what could be better than making a great living and making a big difference?  
Are you ever afraid? 
The only time I really get afraid is when something is affecting my family. But even then, I start to think about the Bible and the passage that says, "You should fear no one, fear no man, but only God," and I feel better.
Are you happy?
Yes, I'm happy. I wake up each and every day happy because of all of the great things that I have going on in my life and I think about all of the blessings that God has bestowed upon me. I don't think about the past; I only think about the present because what I do today sets me up for the future.