Gov. Patrick waits-and-sees on crime bill
Yawu Miller | 1/10/2012, 6:39 p.m.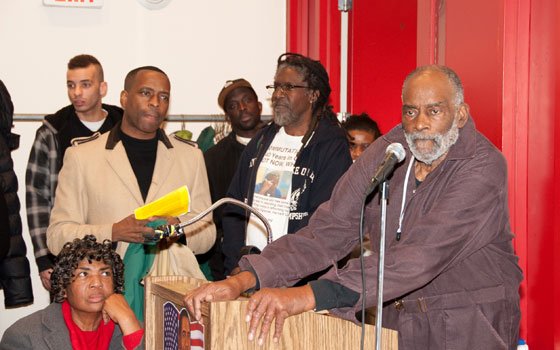 Black activists and elected officials are calling for a massive lobbying campaign to persuade the Legislature to veto or amend a controversial three-strikes law many say would have a devastating impact on the state's black and Latino communities.
Members of the Massachusetts Legislative Black and Latino Caucus made their call for pressure on the Legislature and Gov. Deval Patrick during a packed meeting at the Dudley Branch of the Boston Public Library.
State Rep. Russell Holmes told the audience that Caucus members are working to slow the bill down and engage other legislators in dialogue about the legislation, which passed in the House with 146 votes in favor and only 12 against. Of the 12 opposition votes, eight came from the Black and Latino Caucus members present on the floor and four came from white Legislators.
State Rep. Byron Rushing said caucus members have to demonstrate to their colleagues that communities of color around the state are in support of their efforts to stop the bill. He urged attendees at the meeting to contact their legislators.
"I want everybody to call their state rep and tell them you support the Caucus on this," he said. "I want you to ask your relatives and friends to call."
Rushing and other caucus members said they will likely work to remove the provisions in the legislation that target nonviolent offenders. Caucus members and activists in the black and Latino community also voiced opposition to mandatory post-release supervision, saying that it would hamper ex-offenders in their efforts to obtain work.
In a meeting with the ethnic press Monday, the governor said he will not take a position on the legislation until it comes to his desk.
"We're a long way yet from having a bill," he said. "By the time it gets to me, it's the end of the process."
Patrick said he supports tougher sentences for habitual offenders and mandatory post-release supervision, but is opposed to laws that would send nonviolent offenders away for a life term. He said legislators will respond to pressure from the black community.
"They need to hear from people in the community," he said.
The three-strikes legislation was drafted in reaction to a pair of high-profile slayings committed by career criminals who had been paroled. The most recent killing, the December 2010 slaying of a Woburn cop by career criminal Dominic Cinelli, prompted Patrick to overhaul the state's Parole Board.
While activists at the meeting said they are in support of being tough on career criminals, they say the bill as it's written could easily send nonviolent offenders away for life sentences.
"The third offence can be any felony," noted Stephanie Soriano Mills, a member of the Boston Branch of the NAACP's Legal Redress Committee and a former Suffolk County prosecutor. "In Massachusetts, we have 688 crimes that count as felonies."
Under Massachusetts law, breaking and entering, assault and battery on a police officer, possession of marijuana with intent to distribute and unarmed robbery all count as felonies.