Bill Lowe performs Ed Bullins' 'Street Sounds'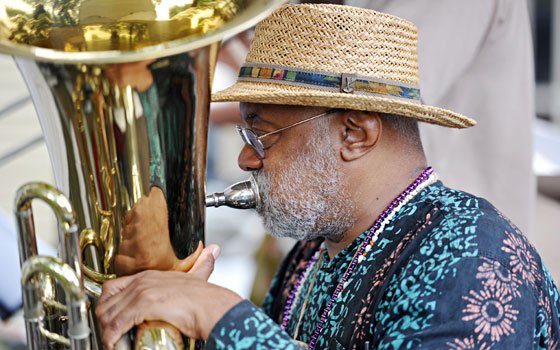 The play is a series of monologues.  How do you make sure the words aren't lost in the music?
The monologues are connected, but not by plot. I've chosen 10-12 of them that will be set to music, but it won't be a musical. Some of them will be intertwined.     
The words are still the primary focus. The music provides a visual underpinning of what's being seen. It compliments or complicates. It will clarify or get in the way of what's being heard. But, if his [Bullins'] words are strong they will stand up.
How will you make it relevant to today's audience, especially teenagers and young adults?
I do a weekly workshop at the Boys and Girls Club on Talbot and Dot Avenue called "Riffs and Raps." We were talking about jazz and hip hop and asked the kids to rap, about love supreme.
There were some outstanding raps but there will be two students — Obama and Josiah — from the program who will be part of this production. Now, street sounds will have young people conversing in hip hop.
Ed Bullins' "Street Sounds: Dialogues with Black Existence" with music by Bill Lowe and directed by Gilbert McCauley will be at Hibernian Hall Jan. 21 at 8 p.m and Jan. 22 at 2 p.m. Tickets are available at the door and online at www.madison-park.org/about-us/events/street-sounds.